Malcolm Brodie: Renowned NI sports journalist dies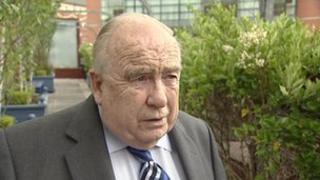 Malcolm Brodie, the renowned former sports editor of the Belfast Telegraph has died.
Dr Brodie, who grew up in Scotland, was instrumental in establishing a sports department at the newspaper and served it for more than five decades.
His achievements in sports journalism, including reporting at 14 World Cups, were recognised by football's world governing body, FIFA.
Football manager, Sir Alex Ferguson, was among those who paid tribute.
The Manchester United boss had known Dr Brodie for about 40 years and described him as a "fantastic man" and a "respected" sports writer.
Speaking on the BBC's Talkback programme, Sir Alex said the journalist was "a great friend and always good value in terms of his opinion".
"He cut to the chase, quite simply that's how he was, you know? He was straight talking and one thing I always admired about him, he never changed his accent, which is very difficult living in a place like Belfast."
Sir Alex added: "He never lost the energy to do his job and he obviously enjoyed doing it and had enthusiasm about it. It's very hard to retain enthusiasm for your job right up to your 80s."
Dr Brodie began his career at the Portadown News, before moving to the Belfast Telegraph in 1943.
As well as establishing the sports department at the newspaper, he was its chief football writer for decades.
He was also awarded an MBE for services to journalism.
Known as the doyen of Northern Ireland football writers, Dr Brodie was respected by many of the game's legendary figures including Matt Busby, Jock Stein and George Best.
He was made an honorary life member of the Belfast Telegraph and wrote a history of the newspaper.
Current sports editor of the Belfast Telegraph Group, Jim Gracey, said Dr Brodie had "taught a generation, maybe two or three generations everything we know about journalism".
"When you walked through the press centres at the World Cups everyone knew him, people like Pele and Bobby Charlton he was on first name terms with them," he said.
BBC Northern Ireland sports presenter Jackie Fullerton said he was shocked to hear the news of Dr Brodie's death.
"I travelled the world with him and he was a great man and a great mentor to me and many others," he added.
"We will never see his like again.
"Northern Ireland's great goalscorer David Healy has just called me and he is devastated."
Former Northern Ireland international footballer Gerry Armstrong, who scored the winning goal that defeated Spain in the 1982 World Cup Finals, also paid tribute.
"After the World Cup victory against Spain in 1982 we partied until the small hours and I remember going to my bedroom and Malcolm was on the balcony at half past four in the morning typing away his piece for the Telegraph and the numerous other papers he worked for," he said.
"His work ethic was unbelievable, he was a fantastic character and he will be sorely missed."
The Irish Football Association said it was saddened at the news of Dr Brodie's death.