DUP accuse Conservatives of 'breaking Sinn Fein pledge'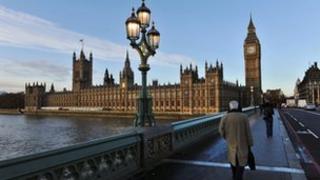 The Conservatives have been accused of reneging on promises to withdraw parliamentary allowances to Sinn Féin.
The DUP say the Conservatives made a pledge in opposition to change rules at Westminster which mean Sinn Fein get around £100,000 annually in parliamentary funds.
The South Antrim MP Willie McCrea said those "who do not take their seats should not receive benefits".
Sinn Féin have an abstentionist policy. Its MPs refuse to attend Parliament.
Mr McCrea was speaking in a DUP debate at Westminster called to examine the funding of political parties who don't take their seats.
Sinn Féin has four MPs in Westminster, Pat Doherty represents West Tyrone, Conor Murphy represents Newry and Armagh, Michelle Gildernew represents Fermanagh and South Tyrone and Paul Maskey represents West Belfast.
Martin McGuinness recently resigned as MP for Mid-Ulster, a by-election will be held later this year.
In 2006 the House of Commons agreed to grant Sinn Fein representative money, a move that Gregory Campbell, the East Londonderry MP, said was an "an attempt to bring Sinn Fein in from the cold".
'Hokey-cokey party'
His party colleague, Strangford MP Jim Shannon, branded Sinn Féin the "hokey- cokey party" claiming they were "in for the money" and "out for representation."
Mr McCrea said his party wanted the Conservatives to make good in government promises they made in opposition.
He said in opposition the Tories had made a number of pledges to end representative grants and he told MPs that pledge should now be enacted.
He said the "government can not abdicate it's responsibility".
Labour MP Angela Smith said she believed it was "clear the DUP has had its patience tested".
She said it was right that the issue be looked at and said it was an "anomaly".
Tom Brake, the deputy leader of the House of Commons, said it was the government's aim that all elected members take their seats.
He said the issue of representative money was primarily a matter for the House to resolve. He suggested that Mr McCrea took the matter up with the backbench business committee.
'Equality and fairness'
North Belfast MP Nigel Dodds said he could not understand why Sinn Féin took their seats in Stormont and in the Dail and did not sit in Westminster.
He said the issue about representative money was about "equality and fairness" . He claimed that since 2005 nearly £750,000 had been paid in representative money to Sinn Féin.
In response, Sinn Féin MP Michelle Gildernew MP accused the DUP of political posturing.
She said the DUP motion was an attempt "to disenfranchise the many thousands of people who voted for Sinn Fein MPs and the many thousands of others who our MPs represent".
The Fermanagh and South Tyrone MP also said "Sinn Féin MPs do not receive salary from Westminster. Salaries are paid out of party funds".
The MP also said Sinn Féin receives representative allowances of "a similar scale and for the same purposes as that available to other parties with MPs".
Ms Gildernew was speaking from Westminster where she is meeting MPs on a number of issues including the party's call for a border poll.
In response, a spokesman for the Conservative Party said: "In opposition, we said an incoming Conservative government would look at this. Clearly, we don't have a majority Conservative government. We have always regarded this issue primarily as one for the House of Commons.
"The backbench business committee now exists and it is the right vehicle for the House of Commons to debate this issue."