Dissident republicans blamed over north Belfast pipe bomb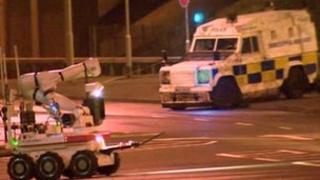 It is believed that dissident republicans were responsible for leaving a pipe bomb close to a north Belfast community centre.
The unexploded device was found near the Greater Whitewell Community Surgery on the Shore Road.
The alert began around teatime on Tuesday, when a telephone bomb warning was made to the surgery.
The caller claimed to be from dissident republican group, Oglaigh na hEireann.
At the time, about a dozen teenagers were attending a youth session and younger children were expected a short time later.
The building was evacuated, as were some neighbouring homes. The bomb was found in the centre's back yard and taken away by the Army.
'Absolutely mystified'
Geraldine O'Kane, the chairperson of the Greater Whitewell Community Surgery, said she was "absolutely mystified" as to why her organisation would be targeted.
The community centre provides facilities for young people and senior citizens, and offers support services and advice on issues such as employment, housing rights and mental health.
Ms O'Kane told BBC Radio Ulster: "At the minute I'm quite stunned. I mean we look after children in there, we look after young people in there and there was no regard to their safety at all."
Local residents and others who were caught up in the alert were offered shelter in the nearby St Mary's parish hall.
'Upheaval'
Mary Gillen, who works at the Fountain Bar in Greencastle, was among those who had to spend hours in the hall during the alert.
"I started work at five o'clock and at about five fifty (17:50 GMT) a police office came in and asked us to clear the bar," she said.
"We are losing business and it's very, very quiet at the moment so this is very disappointing for us."
Tierna Cunningham, a Sinn Fein councillor for the area, condemned the attack and said the bomb had caused "upheaval" to local residents and businesses.
"A strong message needs to go out to the people who planted this device. We're not going to be deterred from our actions and the good work will continue on the ground," she said.