Alliance Party publishes Northern Ireland shared future strategy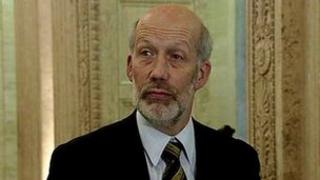 The Alliance Party has published what it says should be the executive's strategy for creating a shared future in Northern Ireland.
In May of last year, the party pulled out of talks at Stormont on the issue.
Alliance leader David Ford accused the DUP and Sinn Fein of attempting to create "an illusion" that they were working towards a shared future.
Mr Ford said there had not been enough progress on schools, housing or flags.
On Tuesday, the party launched For Everyone, The Alliance Party Blueprint For An Executive Strategy To Build A Shared and Better Future.
Mr Ford called for all party leaders to commit to an open and inclusive process to deliver an effective strategy.
"Building a shared future in Northern Ireland is the biggest challenge facing our political institutions and wider civic society," Mr Ford said.
"This challenge has been clear for many years, but has now been brought into even sharper focus by recent events on our streets.
"Continued divisions in our society impact upon people in many ways, including how we live, how we learn, how we work and how we play.
"These divisions bring significant human, social, economic and financial costs.
"By contrast, the creation of a shared future would provide better opportunities for all and significantly assist the development of our economy."
The document highlights four key areas:
Shared education and services for young people, including more integrated schools
Shared communities, including mixed housing as the norm and the removal of interfaces, with the support of communities
Shared culture for everyone, including a process for regulating parades
Shared approach to the past, including considering a new agency to deal with legacy issues