Blocking new crime agency 'is mistake' says David Ford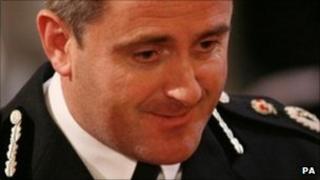 A new policing agency, described as the "British FBI", will not be able to operate in Northern Ireland in the same way as the rest of the UK.
Sinn Féin and the SDLP have blocked a move to give the National Crime Agency (NCA) the powers to carry out police operations and recruit agents.
The NI justice minister said blocking the legislation was a mistake.
The NCA will target crime gangs across local, national and international borders.
Its head is Keith Bristow. He will be directly accountable to Home Secretary Theresa May for the agency's actions - not to the chief constable of the PSNI, the Policing Board or the Police Ombudsman.
Many of the policing powers being given to the NCA have been devolved to the Northern Ireland Assembly, therefore it has to agree to give Westminster authority to exercise those powers.
These include NCA officers being given:
- the powers of a police constable in Northern Ireland;
- the authority to carry out searches and make arrests;
- the ability to conduct surveillance operations;
- the ability to recruit and run informers and agents.
The agency would also be responsible for recovering assets from criminals.
However, Sinn Féin and the SDLP have refused to support the move - which means the powers will not be extended to Northern Ireland.
Justice Minister David Ford said he believed blocking the legislation is a mistake that could have serious implications for the police.
"There is a real danger if it does not go ahead there will be very significant costs to the police both in terms of time and finances and that we will have an inferior response to the serious organised crime that we face," he said.
But Sinn Féin said approving the legislation would undermine devolved policing and justice powers.
"It is right to block this," said Pat Sheehan, MLA.
"We went through long arduous negotiations to have policing and justice powers devolved. Westminster is trying to take those powers away when what we want to do is assert the primacy of the executive and assembly here."
However, the DUP accused the party of playing politics with policing.
Ian Paisley Jnr said: "The NCA is set up to deal with pornography, sex crimes, the transit of prostitutes... to deal with internationally based criminality. Why would anyone want to be on the wrong side of that argument?"
The police are understood to share the justice minister's concerns about the potential implications of the decision.
The PSNI has repeatedly warned that Northern Ireland is increasingly being targeted by international crime gangs operating on a global scale. They believe that cooperation with the NCA is essential.