£2m pay-out to First Trust staff after bank loses appeal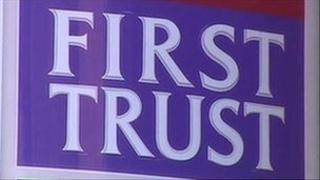 First Trust Bank is facing a £2m pay-out to staff after losing its appeal over bonuses and pay rises.
Senior judges in Belfast delivered their verdict on Monday. It is expected to lead to increased wages for hundreds of workers.
The Court of Appeal judges rejected any claim that bosses could unilaterally change terms of employment.
The bank had contended that general economic hardship meant it should not have to pay the claims sought.
Lord Chief Justice Sir Declan Morgan said: "To give such a wide power to the bank in circumstances were a bonus was intended to be such an important element of remuneration available to employees, seems contrary to every aspect of the documents before us."
Two related cases involved call centre staff and clerical workers at First Trust branches. They were denied performance-related bonuses and increments for up to three years.
At an industrial tribunal last year the bank argued there was no contractual need to make the payments.
Parent company AIB Group's financial difficulties were also stressed. After the tribunal ruled against First Trust the case was brought before the Court of Appeal.
Dismissing the bank's challenge, Sir Declan, sitting with Lord Justices Girvan and Coghlin detailed how it had brought in performance-related bonuses as an incentive method.
"None of the documentation suggests there was any unilateral right on the part of the bank to interfere with the entitlement to bonuses," he said.
"In our view, standing back and looking at the matter as a whole, it seems to us any such variation in relation to the bonus scheme could only have been achieved by way of mutual consent or, alternatively, by negotiation."
It was previously reported that the case involved payments of between £2,000 and £10,000 in performance-related bonuses for call-centre staff.
Another 600 clerical staff are expected to receive an average of £3,000 in back pay.
Irish Bank Officials' Association general secretary Larry Broderick, who fought the case for staff through Thompsons McClure Solicitors, urged First Trust to act without delay.
"It's disappointing that the bank appealed and we are now calling on it to implement the payments with immediate effect to all staff who are entitled," he said.