Ex-IRA woman Dolours Price's funeral takes place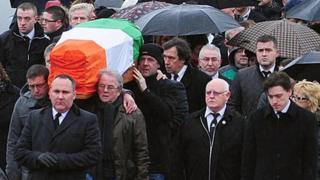 The actor Stephen Rea has carried the coffin of his ex-wife, Dolours Price at her funeral in west Belfast.
Price, who was jailed for her part in the IRA bombing of the Old Bailey in 1973, died on Wednesday.
Among the mourners on Monday was prominent dissident republican Colin Duffy.
The PSNI has been involved in a legal process in the US to seize interviews Price gave about her time in the IRA to Boston College.
She was found dead at her home in Malahide, County Dublin, on Wednesday night.
About 200 mourners were at the funeral service at St Agnes' Church in the Andersonstown area. The cortege then made its way to Milltown Cemetery.
The 62-year-old, along with her sister Marian Price and the Sinn Fein MLA, Gerry Kelly, was jailed for her part in an IRA bomb attack on the Old Bailey in London in 1973.
More than 200 people were injured and a man, who suffered a heart attack when the bomb exploded, subsequently died.
The Price sisters were given life sentences and went on hunger strike, demanding to be allowed to serve their jail term in Ireland.
Murder victim
In recent years Price had aligned herself with dissident republicans and was an outspoken critic of the IRA leadership and Sinn Fein leader Gerry Adams.
In media interviews before she died, she alleged that during her time in the IRA, Mr Adams had been her commanding officer.
She also claimed that she drove Belfast mother-of-10 Jean McConville to the place where she was murdered by the IRA in 1972.
Dolours Price was born in 1951 and was originally from Belfast.
After her release on compassionate grounds in 1980, she married the actor Stephen Rea. The couple have two sons but divorced in 2000.
She was also the catalyst for a transatlantic legal battle over secret testimony she gave to an American college about her time in the IRA.
Over a decade ago, she was one of 26 former IRA members to give a series of interviews to Boston College, as part of its oral history research project into the Troubles in Northern Ireland.
Recordings were carried out with both loyalist and republican paramilitaries, on the understanding that they would be made public only once interviewees had died.
In 2011, the Police Service of Northern Ireland (PSNI) launched a legal bid to force the college to hand over the transcripts, as part of their investigation into the murder of Jean McConville.
Disappeared
The 37-year-old mother was abducted from her Belfast home and shot in the head in 1972.
Mrs McConville was one of the so-called Disappeared, people who were murdered and secretly buried by the IRA.
Her body was found more than 30 years later on a beach in County Louth.
The researchers at Boston College fought the PSNI action, arguing that surrendering the transcripts would put lives at risk and compromise future oral history projects as a confidentiality agreement had been broken.
It is not yet known how Dolours Price died but police in Dublin have confirmed they are investigating the death of a woman at a house in St Margaret's Road in Malahide.