Omagh bomb incident: Assembly member believes police officer was targeted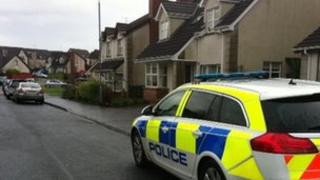 An Ulster Unionist assembly member has said he believes a police officer who fired shots during an incident in Omagh on Friday was being targeted.
A pipe bomb was found close to the home of the off-duty police officer on Saturday during follow-up searches.
The shots were fired by the police man at his house on the Kevlin Road on Friday night.
UUP MLA Ross Hussey said he believed the officer no longer lived in the house but was carrying out repairs.
"We had a situation (on Friday) where the police officer realised people were at the back of his house, there was an incident where he fired the shots and then the next day the improvised explosive device was found by police in the follow-up search," he said.
"Clearly that is a major concern for anybody, but this is a residential area and that particular device could have killed not only the policeman but children playing in the area.
"Clearly this officer was targeted and the targeting would have continued wherever he was, they followed that through.
"He, clearly aware of that risk, was able to take action in the first instance when he fired the shots."
Mr Hussey said he commended the police officer for firing the shots and "ensuring his own safety".
"I think most police officers today are not as switched on as that, they wouldn't expect this sort of thing to happen," he said.
He also said it was unfortunate that the "attackers" had not been hit by the police officer.
"If someone is prepared to take the life of a police officer they are entitled to expect severe force back at them and it is unfortunate one of the attackers was not hit," he added.
Investigations are continuing into the discovery of the bomb which was found in the Coolnagard area of Omagh on Saturday.
Police carried out door-to-door inquiries in the area on Sunday. They said they would not comment on Mr Hussey's claims.
Detectives say they want to speak to anyone in the area who noticed anything out of the ordinary between the hours of 08:00 GMT and midnight on Friday as well as over the past number of months.
Sinn Fein West Tyrone MLA Declan McAleer has said people living in the area were annoyed at what had happened.
The Police Ombudsman has been informed about the shots being fired.