Signed Good Friday Agreement proposal sold at Dublin auction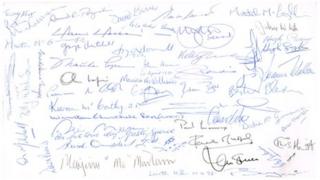 A copy of the original Good Friday Agreement proposal, which was signed by the participants, has sold at auction in Dublin for 9000 euros.
The proposal belonged to an unnamed member of the Northern Ireland Women's Coalition who was 16 at the time.
It has been signed by Tony Blair, John Hume, Gerry Adams, Martin McGuinness, Marjorie "Mo" Mowlam and Bertie Ahern.
The Good Friday Agreement was signed in Belfast on 10 April 1998.
The lot also included a cover sheet memorandum issued by the Office of the Independent Chairmen to "all participants", subject titled "final agreement" and dated April 10, 1998.
The memo itself noted that "We intend to convene a plenary session to consider and act on this agreement this morning. Our staff will contact your offices as soon as the time is fixed.
"This is, in all likelihood, our last memorandum to you. We take this occasion to thank each of you for your courtesy. It has been a pleasure to work with you."
Auction house Whytes of Dublin described the item as "a document of extreme scarcity and possibly the only signed copy."
Other items that were sold at the auction included Maze Prison visitors card issued to Merlyn Rees while serving as secretary of state for Northern Ireland at his address at Stormont allowing him along with Stanley Orme, Minister of State for Northern Ireland, and Donald Concannon, Under-Secretary of State for Northern Ireland, to visit loyalist leader Gusty Spence.
The visitor card sold for 120 euros.
Another item sold at the auction was a copy of the signed front cover of the agreement.
Philip Flynn, then chairman of the Irish Agricultural Wholesale Society Ltd., organised a signing of the cover of the final published Good Friday Agreement by all the major participants, the original of which was sold at a charity auction.
Each of the participants was presented with a facsimile. It sold for 500 euros.