Man charged following east Belfast union flag protest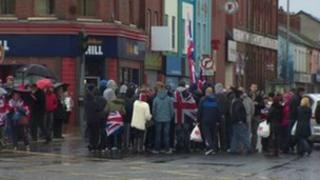 A 42-year-old man arrested in east Belfast following a union flag protest has been charged with assaulting police, disorderly behaviour, obstructing traffic and resisting police.
He is due to appear at Belfast Magistrates' Court on 28 January.
Earlier several hundred loyalists gathered in front of Belfast City Hall.
A number of the protestors later blocked several roads in east Belfast.
The roads have now re-opened and police have scaled down their presence in the area.
Loyalist street demonstrations have been taking place since Belfast City Council voted to limit the number of days the union flag is flown at Belfast City Hall.
The majority of the street demonstrations have passed without incident, but some have resulted in serious rioting.
Since the vote was passed on 3 December, 127 police officers have been injured and 174 people have been arrested.