Flag protests: 12 petrol bombs thrown at police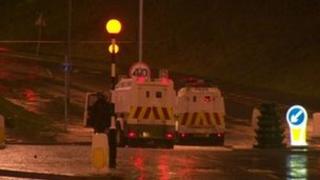 Up to 12 petrol bombs have been thrown at the police during disorder following a union flag protest in Newtownabbey, County Antrim, the police have said.
It follows a number of protests across Northern Ireland on Friday. Most were peaceful, but PSNI officers were attacked at Cloughfern.
Crowds threw petrol bombs, stones and fireworks at officers. Another 19 petrol bombs were found by police.
They have been taken away for forensic examination.
A suspicious object was thrown at a police vehicle. It was examined by Army bomb disposal experts who said that it was a hoax.
In a statement the PSNI said there had been no reports of arrests or injuries.
Loyalist street demonstrations have been taking place since Belfast City Council voted to limit the number of days the union flag is flown at Belfast City Hall.
The majority of the street demonstrations have passed without incident, but some have resulted in serious rioting.
Since the vote was passed on 3 December, 127 police officers have been injured and 174 people have been arrested.