Thomas Devlin murderer gets extra year for escape attempt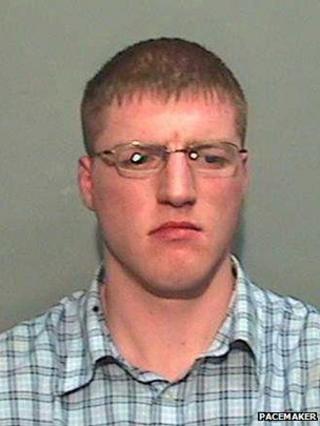 A man serving a minimum of 30 years in jail for knifing a Belfast teenager to death has been jailed for another year for trying to escape lawful custody.
Gary Taylor, of Mountcollyer Avenue, is one of two men convicted of murdering 15-year-old Thomas Devlin in 2005.
He admitted trying to escape and two counts of assaulting two prison escort group officers on 3 January 2012.
Judge David McFarland ordered Taylor serve the 12 month sentence consecutively to his life term.
When a defence lawyer submitted that was an incorrect approach to the case, Belfast Recorder Judge McFarland told him: "You can appeal me if you want.
"He has to be punished for this so on the expiry of the term he is to serve another year," he said.
He added that if the lawyer was correct Taylor could "try to escape everyday and he doesn't get punished for it".
Thomas was knifed to death near his north Belfast home.
He suffered multiple stab wounds to the chest, abdomen, right upper arm, hip and face.
His friend, Jonathan McKee, was also attacked and stabbed in the stomach.
Taylor, 26, and Gary Brown, 29, from Whitewell Road in the city, were both found guilty of murder and attempting to murder the two boys.
The victims had been walking back with a third teenager, Fintan Maguire, from a shop when the killers struck on the Somerton Road.
Both men's appeals against conviction were dismissed last November.
On Thursday, Brown had two years taken off his tariff by the Court of Appeal.
It ruled that the original minimum 22-year jail term was manifestly excessive because Brown had disclosed his involvement.