Disabled man has to make bank transaction outside in rain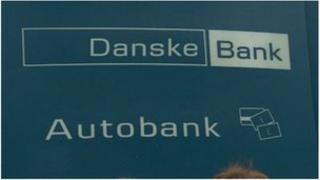 A disabled man was forced to make lodgements outside a bank because it does not have disabled access.
Michael Holden had to conduct his business in the rain outside the Danske Bank branch in Maghera, County Londonderry, as it does not have access for wheelchairs.
Two staff from the bank assisted him on the street with one holding an umbrella to stop him getting wet.
Mr Holden said the incident left him feeling "embarrassed and humiliated."
'Drenched'
Speaking to BBC Radio Ulster's Evening Extra programme Mr Holden from Saintfield, County Down, said while he was in Maghera he had to make some lodgements at the bank.
"I parked as close as I could to the branch and wheeled myself up to the branch," he said.
"It was pouring with rain and there was no obvious sign of disabled access, so I wheeled myself up and down the length of the branch and couldn't find a way in so I had to bang on the windows," he said.
Some of the customers in the bank saw Mr Holden and alerted staff to his presence.
He said: "One of the staff came dashing out and asked if she could help me, I said 'yes' I wanted to make a lodgement. She said 'I'm very sorry, there's no way in, we will have to transact your business here in the street'.
"I said 'you're kidding me' and she said 'no' and told me that the staff had complained to head office but that nothing had been done.
"I said that if that was the only way then that's what we would have to do."
The staff member then arranged for a colleague to come out and hold an umbrella over Mr Holden while he made the transaction.
"The staff were embarrassed and they apologised so many times. I was embarrassed for them as well as myself, people were walking past and looking at what was going on," he added.
"I was terribly embarrassed, it's humiliating. I was drenched to the skin. To think in the modern age that a disabled person can't get access to a high street service is just unbelievable."
Mr Holden is also not able to enter his local Danske Bank branch in Saintfield as it also does not have disabled access.
The Equality Commission for Northern Ireland has confirmed that Mr Holden has been in touch with them and they are aware of the issue.
Danske Bank have said: "We are committed to improving the accessibility of our branches for wheelchair users and, following works in recent years, the vast majority of our branches and head office locations are already DDA compliant.
"The work required to make each location wheelchair accessible varies according to the individual physical premises and street access and in some cases planning permission is required.
"In Saintfield we now have a temporary ramp, with a view to carrying out further alterations in the coming months. In Maghera, significant works are required to achieve DDA compliance and this work is currently being scoped out."