John Lewis decision not Attwood's to take says Robinson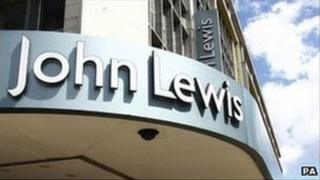 A controversial planning decision to limit further development at Sprucefield to "bulky goods" like furniture may be overturned.
Environment Minister Alex Attwood took the decision earlier this month which may have dealt a blow to John Lewis's plans to locate a store on the site.
The retailer said Sprucefield was the only suitable site in Northern Ireland.
But on Friday, First Minister Peter Robinson said it was not Mr Attwood's decision to take.
"The issue of retail policy is a matter for the whole of the executive to take a decision on, and not just for one minister," Mr Robinson said.
"Therefore the intention that was indicated by Alex Attwood in relation to its impact on the John Lewis store is something that the executive will decide on rather than the minister himself."
The development at Sprucefield, on the outskirts of Lisburn, County Antrim, which includes 19 other retail units, was first suggested nearly nine years ago.
In announcing his decision earlier this month, Mr Attwood said he was committed to putting "Belfast first" in "difficult times".
Objectors have said the scale of the Sprucefield project would damage town centres. Supporters have said it will bring jobs.
The planned development at Sprucefield was said to have been one and a half times the size of the Castlecourt shopping centre in Belfast.
Mr Attwood said his department had been asked by the Planning Appeals Commission (PAC) to make its position clear on the matter.
"This will be part of the evidence to the Inquiry. I did so and I have not only the ministerial authority but I also responsibility to do so. That is the law and that is why my approach is right," he said.
"Second, in deciding the retail strategy for the BMAP area , I was faithful to the explicit Regional Development Strategy of the Executive. The Regional Development Strategy - adopted by the Executive only last year - confirmed a 'Belfast First' retail strategy and 'precaution' about other retail initiatives."
The latest Sprucefield plans are set to be considered by the PAC in April.
It will consider if there are any obstacles to the resumption of a public inquiry and to discuss dates.
A planning application for the 500,000 sq ft development was first made in 2004.
Although it is most associated with the department store John Lewis, the application has been made by the developer Sprucefield Centre Ltd.
It is a joint venture between the Australian property firm Westfield and the local developer Snoddons.
John Lewis have committed to being the anchor tenant at the development.
The project has faced a series of legal challenges from some Lisburn traders who fear it could damage city centre shopping.
Rival retail landlords have also opposed it.