No prosecution in Martin O'Hagan murder case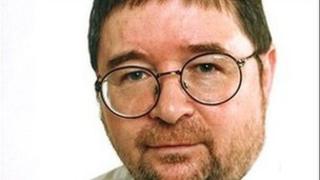 The NI Director of Public Prosecutions has said a decision has been taken not to prosecute in the Martin O'Hagan murder case.
Barra McGrory QC said the decision was made after careful consideration of "all the available evidence".
This included that of Neil Hyde, who signed a contract to help police in return for a reduced sentence for 48 LVF linked offences.
Mr O'Hagan, a Sunday World journalist, was shot dead in Lurgan in 2001.
"I know this decision will be disappointing to Mr O'Hagan's widow, family, friends and colleagues but the evidence that can be given by an assisting offender must be carefully evaluated and the test for prosecution applied on a case by case basis," Mr McGrory said.
"Every case is different and the question whether the test for prosecution is met can only be determined on the merits of each individual case
"The approach in this case has been assisted by the detailed consideration given by Mr Justice Gillen in his judgment in the case of R v Haddock and others to the dangers of convicting on the uncorroborated evidence of an accomplice.
"The prosecution of any of the accused in this case would depend on the evidence of Neil Hyde.
"Having regard to all the circumstances it has been concluded that, in the absence of any corroboration, the available evidence is insufficient to provide a reasonable prospect of obtaining a conviction against any individual".
'Angry'
Mr O'Hagan's brother Fintan said the family was "bitterly disappointed" at the decision not to prosecute.
"There is a witness who wants to tell a court who killed Martin O'Hagan, yet the Public Prosecution Service are depriving that witness the opportunity of telling the court his account and further depriving the court of the opportunity to consider the truthfulness or otherwise of that evidence and depriving the family, and indeed the public, of the opportunity to see justice in action," he said.
"Justice need not just be done, it needs to be seen to be done."
The O'Hagan family's lawyer, Niall Murphy, said they would be considering options including making representations to Northern Ireland attorney general John Larkin QC over an inquest and potential civil litigation.
Mr O'Hagan's killing was claimed by the Red Hand Defenders, a cover name used by both the Loyalist Volunteer Force (LVF) and Ulster Defence Association.
Sunday World northern editor Jim McDowell said he was angry and annoyed at Friday's announcement.
"Myself and the staff have worked hard since that black Friday in September 2001 to try to get justice for Martin O'Hagan," he said.
"It now seems, that old adage, while there there may be law in this country, where is the justice?"
Mr McDowell said the announcement had come as a shock to him and Mr O'Hagan's family.
"This will not diminish in any way our resolve to continue to try to get justice for Martin," he added.
When Hyde was jailed in February 2012 for three years, Judge Patrick Lynch QC told him that if he had not agreed to identify the alleged culprits in Mr O'Hagan's murder and give evidence about the activities of the outlawed LVF, he would have been jailed for 18 years.
He told Hyde, that having been recruited into the LVF in 1996: "By virtue of your size and propensity for violence, it appears that you were useful to the organisation as an enforcer and embarked on a career of sustained criminality over the next 15 years."
During Hyde's trial, the court heard that while he was being questioned by detectives from the PSNI's Retrospective Murder Review Unit in September 2008, he confessed to a number of offences and formally agreed to help police early in 2009.
He admitted to six charges relating to petrol bombs, nine of affray, drug dealing in cannabis and cocaine, five relating to arson, seven firearms offences, two charges of withholding information in relation to a murder and a wounding.
He also pleaded guilty to robbery and attempted robbery, aggravated burglary, causing actual bodily harm and managing a meeting in support of the LVF.
All the offences occurred on various dates between 1 January 1992 and 24 January 2008.