Police revisit Bangor and Belfast "tiger kidnapping" scenes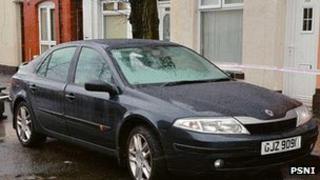 Police investigating a so-called "tiger-kidnapping" have revisited the areas involved a week after it happened.
An 18-year-old man was kidnapped from his Bangor home by a gang who forced his father to get them money.
Police revealed the 18-year-old had to sit an A-level on Thursday, less than a week after the incident.
Det Insp Chris Wilson said they were both "still recovering from their terrifying ordeal".
"Those responsible for inflicting such terror pose a risk to everyone in the community while they remain at large," he said.
On Thursday, 17 January at approximately 22:15 GMT, three masked men entered a house in the Bexley area of Bangor. A 52-year-old man and his son who were in the house were threatened by the intruders, who were armed with shotguns and knives.
Police said that at about 04:00 GMT on Friday, 18 January, the son was taken from the house in the family car, a grey Renault Laguna GJZ 9090. The number plates were then changed to false ones with the registration number RJZ 6968.
Substantial
He was taken to a vacant house in the Beechmount Parade area of west Belfast and remained there until shortly before 09:30 GMT when he managed to escape and raise the alarm.
Just over two hours earlier a substantial sum of money was passed to the one of the men who had stolen the family's car at the Anchor Lodge filling station on the Ravenhill Road in south Belfast. Police said that a cash-in-transit vehicle was in the forecourt at the time.
The family's car was then seen on the Westlink and in Barrack Street before it was found abandoned in Ainsworth Avenue in west Belfast.
Detectives from Serious Crime Branch revisited the three scenes and appealed for information from anyone who was in the areas a week ago.
They are also keen to speak to anyone who noticed a dark grey Honda Civic, which police believe was used by the kidnappers, and which may have stopped to have its wheel changed somewhere between Bangor and Belfast during Thursday night or the early hours of Friday morning.
The car had the registration number TIW 8819 when it travelled to Bangor on Thursday night but the number plates were changed to false ones, OJZ 4157, on the return journey to Belfast on Friday morning.
Recovering
Det Insp Wilson said: "I would ask people who were in the specific areas of Bangor last Thursday night or Belfast on Friday morning to think if they saw anything which might help our inquiries."
The police officer said although the father and his son had been subjected to a "horrendous ordeal", they were recovering and trying to come to terms with what had happened.
"There is a human element to this as well," he said.
"This 18-year-old young man is going through his A-levels at the minute and had to go and sit an A-level on Thursday and that was extremely difficult.
"They are currently receiving counselling and trying to get over this situation but this is going to take a long time.
"It has not only affected them, there's a wider family circle as well who are absolutely devastated as to what has happened."
The term "tiger kidnapping" comes from the fact that the criminals mimic the jungle predators by stalking their victims before pouncing.