McClarty says "onus on moderate unionists" to form new party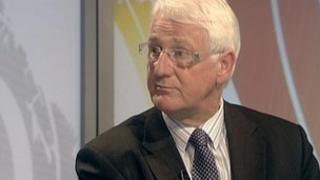 An independent Northern Ireland assembly member has said there is an onus on "moderate unionists" to consider forming a new party.
David McClarty left the Ulster Unionist Party after being de-selected as a candidate at the Assembly election.
He told The View, on BBC One NI, he believed his former party is now too close to the DUP.
He said that such a party would have to be inclusive and nor "purely unionism with a religious bias".
"People say the last thing Northern Ireland needs is a new party but if there are people out there, and a considerable number of people there, who are not being represented then I think there's almost an onus on those who want to show a positive way forward to form such a party," he said.
"I want to see Northern Ireland prosper and if being part of a new party can achieve that then yes I would have to consider that. It certainly would be a very moderate unionist party, an inclusive unionist party where all opinions are acceptable.
"It is not purely unionism with a religious bias. Everybody, those particularly who are unionist even with a small 'u', would be welcome irrespective of their class and creed or whether they have a creed at all."
Asked if would consider joining such a party the UUP MLA John McCallister, who was disciplined for claiming the party was "sleep walking towards unionist unity", said politics was in "a very fluid state at the moment."
"We have no idea what way things are going to look like in the next few months," he added.
The Lagan Valley MLA Basil McCrea is due to face an internal disciplinary hearing for publicly criticising his party's stance over flying the union flag at Belfast City Hall.
The former Ulster Unionist junior minister Dermot Nesbitt told the programme that if Mr McCrea and the party leader Mike Nesbitt cannot find a way to work together it "would be better to go their separate ways".
However, Mr Nesbitt, who helped form the Unionist Party of Northern Ireland with the former Prime Minister Brian Faulkner in 1974, warned that new parties don't always work "because people don't always follow".
The Ulster Unionist Party's sole executive Minister Danny Kennedy denied the party was in trouble.
He told the programme: "I've been in unionist politics a long time and I've seen people come and go and I've seen parties come and go.
"But I do firmly believe that mainstream unionist opinion is still very much concentrated on how the Ulster Unionists represent that opinion in a moderate responsible way, that offers leadership that is different to other parties but is nevertheless important as Northern Ireland moves into the future."
The Enterprise Minister Arlene Foster, who defected to the DUP from the Ulster Unionists in 2004, said she did not want to see a new party being formed.
"What I do see happening is that people are leaning towards the DUP because they see a strong voice; they see a strong leader in Peter Robinson and you know if people want to talk to us about moving over to the DUP we're more than happy to talk to them," she said.
The View, BBC One Northern Ireland 22:35 GMT.