Irish oil firm says Rathlin site may yield 530m barrels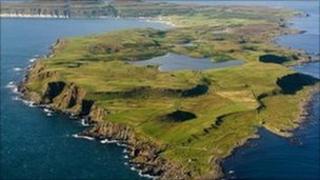 An oil exploration firm says there may be 530m barrels of oil under Rathlin Sound, off the north Antrim coast.
Providence Resources, based in Dublin, has been exploring the potential of oil and gas around the coast of Ireland.
In a statement, the company said they would drill an exploration well next year to examine the Northern Ireland site, called the Polaris Prospect.
Environmentalists have reacted angrily with the Friends of the Earth calling it a "retrograde step".
Northern Ireland director James Orr said: "It is an area with some of the best tidal energy resources and some of the best wind energy resources, not just in Ireland but in Europe.
"We should be exploiting those for clean and green energy. The exploitation of the remaining oil and gas resources around Ireland is very counter-productive."
In 2012, Providence carried out surveys over the area, which covers about 30 square kilometres, which it holds the licences to explore.
The company said there were five anomalies which were prospects for examination, with the Rathlin Sound location being the primary site.
The company said this was "structurally on-trend" with an onshore well at Ballinlea near Ballycastle where oil was found in 2008.
The company's technical director John O'Sullivan said their results had been encouraging and that it may be possible to drill from an onshore location.
"The Rathlin Basin has always been considered prospective due to the presence of a rich oil prone source rock, however poor seismic imaging has historically rendered it difficult to determine the basin's true hydrocarbon entrapment potential," he said.
"We believe that our application of new technologies such as Full Tensor Gradiometry should allow for a complete re-assessment of this frontier basin.
"We have now commenced planning for a future drilling programme in 2014, which includes necessary site investigations, local permitting requirements together with regulatory and local stakeholder liaison."