Thomas Devlin murderer gets reduced tariff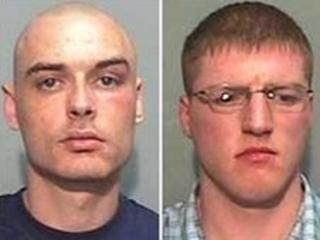 A minimum 22-year jail term imposed on one of the killers of schoolboy Thomas Devlin was manifestly excessive, the Court of Appeal has ruled.
Judges held that Nigel Brown's tariff should be reduced by two years because he disclosed his involvement.
But they rejected accomplice Gary Taylor's challenge to a jail term of at least 30 years for the August 2005 stabbing.
Thomas, 15, was knifed to death near his north Belfast home.
He suffered multiple stab wounds to the chest, abdomen, right upper arm, hip and face.
His friend, Jonathan McKee, was also attacked and stabbed in the stomach.
Taylor, 26, of Mountcollyer Avenue, Belfast, and Brown, 29, from Whitewell Road in the city, were both found guilty of murder and attempting to murder the two boys.
The victims had been walking back with a third teenager, Fintan Maguire, from a shop when the killers struck on the Somerton Road.
Both men's appeals against conviction were dismissed last November.
On Thursday, Lord Chief Justice Sir Declan Morgan said Taylor had gone out armed with a knife intent on carrying out a random and motiveless killing.
He said: "Murders on such a basis naturally strike fear in the minds of those within the local community because such conduct is the mark of the serial killer."
Sir Declan detailed their history of violent crime.
Brown has a total of 72 convictions including multiple counts of assault on police, riotous behaviour, possession of offensive weapons, assault occasioning actual bodily harm and drugs offences.
Taylor's record includes convictions for rioting, assault, disorderly behaviour and affray.
Sir Declan, who heard the case with Lord Justices Higgins and Girvan, stressed the impact of the knife attack on Thomas's parents and the boys who survived it.
"For all of them the consequences of that night have been life changing and enduring," he said.
"The emotional impacts and the effects on the mental health of the Devlin family have been profound and devastating."
Taylor, appearing by video-link from Maghaberry prison, heard his attempt to kill Jonathan McKee described as a "serious aggravating factor akin to a multiple murder".
"Taylor stabbed at his back on a number of occasions," Sir Declan said.
"The stab strokes at the rucksack containing the aerosol cans were forceful and deep. It was entirely fortuitous that no significant physical injury was caused."
Emphasising the random nature of the attack, the judge confirmed: "We agree that a tariff of 30 years in the case of Taylor was a stiff sentence but we do not consider that it was manifestly excessive or wrong in principle. His appeal is dismissed."
Brown, who was found guilty of murder on the basis of a joint enterprise, had made a confession over the roles he and Taylor played within four weeks of the attack.
He was brought to court to learn his sentence was being reduced due to that revelation.
"Even if the disclosure did not amount to straightforward remorse, the circumstances of it suggested that Brown was troubled by the enormity of what he had done and felt compelled to confess the fact that he had been involved," Sir Declan said.