NI Fire Service whistleblower Linda Ford 'treated like criminal'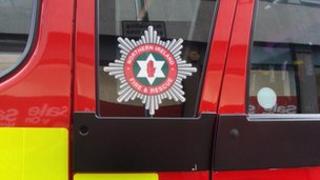 Fire and Rescue Service (NIFRS) whistleblower Linda Ford has told the Assembly's health committee she continues to be "treated like a criminal".
Ms Ford won £20,000 in compensation after she took a case against the NIFRS.
Three investigations were carried out into the NIFRS.
They followed allegations about fraud, unapproved bonuses and failures to deal with staff grievances.
Ms Ford told committee members her treatment had been "appalling", and doubted whether anyone "would come forward now having seen what I have been through".
She said that she had returned to work following suspension but had not been allowed to return to her previous role, and had been told she was not allowed to speak to other members of the finance department.
Ulster Unionist Roy Beggs thanked Ms Ford for her actions.
"There has been a litany of bad practice that had to be exposed," he added.
Replying to a question from Conall McDevitt from the SDLP, Ms Ford was also critical of the Permanent Secretary of the Department of Health, to whom she had made the disclosure.
Earlier in the session, the committee was briefed by members of the Food Standards Agency (FSA) on the "horseburgers" affair.
Maria Jennings of the FSA explained how the organisation had reacted when informed by the authorities in the Republic of Ireland that horsemeat had been found in beefburgers sold in some supermarkets.
She said the incident had been the subject of "intense public interest" and they had dealt with hundreds of media enquiries.
Committee chairwoman Sue Ramsey said she had food allergies and that when she read the contents on a food packet she needed to know it was correct.
The FSA officials expanded on plans for a consultation on the introduction of legislation for a food hygiene ratings scheme.