Unemployment: Mixed picture for NI jobless figures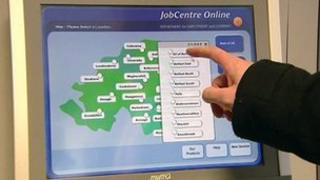 Northern Ireland's overall unemployment rate has fallen slightly but the number of people signing on the dole continues to rise, according to latest figures.
The Labour Force Survey, which estimates the numbers out of work, puts the unemployment rate at 7.9% for the period September to November last year.
That was down very slightly from the rate recorded in the previous quarter.
But the number claiming unemployment benefits in December was 65,200, a jump of 500 on the previous month.
The jobless rate in Northern Ireland is above the UK average but below that of the Republic of Ireland and the EU.
'Disappointing'
This latest monthly increase was in contrast to the fall across the UK as a whole.
The percentage of people signing on the dole in Northern Ireland in December was the second highest among the 12 UK regions.
Stormont's Enterprise Minister, Arlene Foster, said: "Whilst the official measure of unemployment in Northern Ireland decreased over the quarter, it is disappointing that the number of people on the claimant count has continued to increase.
"The rate of unemployment in Northern Ireland (7.9%) was similar to that in the UK (7.8%), and still compares favourably to the rates in the European Union (10.7%) and the Republic of Ireland (14.7%)," she added.
Meanwhile official figures from the Department of Enterprise suggest that the Northern Ireland economy is still flat.
They show that in the third quarter of 2012, the service sector saw growth of 2% while manufacturing saw a small fall.
Local GDP
The construction industry is continuing to contract with output down by nearly 5% quarter-on-quarter and down 7.5% year-on-year.
Later this month, the Department of Enterprise will begin publishing a composite economic index which will effectively produce a separate gross domestic product (GDP) figure for Northern Ireland.
GDP is a figure which shows the total output of an economy.
The department said the new index has been been developed using data from existing quarterly indices of the production, services and construction industries.
These sources have been combined with agricultural output data and employee jobs data for the public sector to provide a measure of change in local economic activity.