Stormont ministers criticised over £42m in unspent funds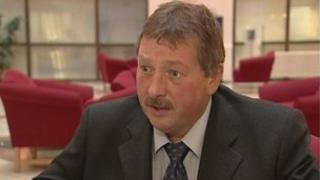 Finance Minister, Sammy Wilson, has criticised his ministerial colleagues at Stormont over the amount of unspent public money they have returned to him.
Ministers have given back millions because their departments cannot spend it within a specific time period.
As part of the January monitoring round, when budget readjustments take place, £42.3m in unspent funds has been returned to the Department of Finance.
The money is now being being re-allocated to other projects.
'Concerned'
Departments that have bid successfully for the extra money will have to spend it at short notice.
Mr Wilson said: "I remain concerned at the high level of reduced requirements surrendered in this round, particularly since it is difficult to spend large amounts of resources in the final few months of the financial year."
The finance minister highlighted the "most significant" cases.
"The Department for Social Development surrendered £17.8m of resource expenditure, which accounted for nearly two-thirds of resource (expenditure) reduced requirements in this round."
He said the amount "came largely from the NI Housing Executive and the Social Security Agency".
After some other adjustments, the finance minister had about £35m available to distribute among departments which made bids for the extra cash.
A&E services
In this spending round, the Stormont Executive also agreed to allocate £17.7m of capital investment funding to the Department for Regional Development (DRD).
This will allow for the purchase of 42 new buses at a total cost of £6.7m.
It also provides for an additional £10m towards roads structural maintenance. A source at the Department of Finance described this as "new money" for DRD minister Danny Kennedy's department.
An additional £10m is being given to the Department of Health for spending on accident and emergency services.
The minister said: "This allocation allows DHSSPS to address additional demand on emergency departments and other acute health services resulting from winter and unscheduled care pressures."
First time buyers
The Department of Justice is getting an extra £10m to help pay for a voluntary redundancy scheme for prison officers.
Almost £12m is going towards a housing initiative for first-time buyers. The scheme involves housing associations purchasing vacant or repossessed homes to fix up and then sell on the market at a discount.
The total figure of the money handed out by the Finance Department for new projects is more than it currently has in receipts.
This means it has what is known as an "over commitment" of around £9m, which it plans to make up in future monitoring rounds.