Rush hour is snow joke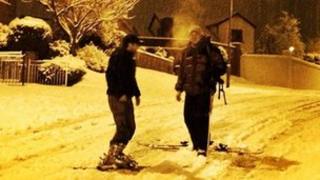 The travel chaos faced by many commuters coincided with rush hour on Monday when wintry showers brought more snow on top of what had already fallen in places at the weekend.
Around 10 centimetres of fresh snow fell between late afternoon on Monday and Monday night.
This was measured at sites that have a Met Office weather station, but there are reports that other areas saw more than their fair share.
The Roads Service said Belfast, the greater Lisburn area, the Templepatrick hills, Comber, Saintfield, Ballygowan, Hillsborough, Carryduff, the Castlereagh hills, Dundonald, Holywood, Moira, Ballynahinch, Dromore, Dromara, Banbridge, Rathfriland and Castlewellan were particularly affected by the snow.
"Operations were affected by the intensity of the snow, the volume of very slow moving traffic, and in places by a number of broken-down or abandoned vehicles" a spokesperson added.
As a result, some car and public transport journeys took four times longer than they usually did.
Some buses did not operate at all with a number of services cancelled by Translink.
'Frustration'
"My bus journey from Belfast to Moira took four hours and 20 minutes, it normally takes about an hour," said Chris Benson from Moira.
"We didn't really know what was happening because the bus driver couldn't get any information.
"There was a bit of frustration but I was with friends and that made the journey a bit more bearable"
Online social media feeds quickly filled up with angry and frustrated tweets as traffic got worse.
Some, however, took the opportunity to make light of the situation
"Anyone sitting in traffic on the Westlink feel free to join my car party. I have the tunes, you bring the crisps and dip," tweeted Peter Cunningham from Lisburn whose journey from Belfast took two hours and 30 minutes.
Speaking to BBC News on Tuesday, Peter said: "I think it was just one of those situations where people were caught out.
Not so jovial
"I don't think anything else could've been done by authorities to help out.
"I just kept the heat up and the tunes going to keep my spirits up."
Others, however, weren't so jovial and tweeted their feelings. Samples included:
"just spent 3 hours on the M1 aka belfast's biggest car park"
"Have spent 2 hours on the West Link and still here"
"just abandoned my journey to Dungannon. Two hours to go from Stormont to M1 Dunmurry junction and back"
"took 2.5 hrs to Katesbridge, 2 of which was to Sprucefield. Home now but electricity out"
Some east coast areas are again being affected by some wintry showers on Tuesday with several centimetres expected to fall in some places, but the situation is expected to improve later.
Over the next few days it will be mainly dry and cold with only a only a slight thaw, but the weekend will bring milder and more unsettled conditions.