Bid to raise dementia awareness in Northern Ireland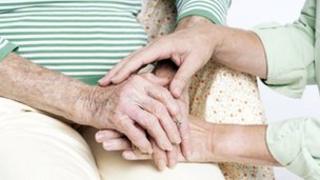 Recent figures have revealed there are 19,000 people with dementia in Northern Ireland and that the number is rising.
The Alzheimer's Society said despite those figures, almost 40% of those with dementia are not getting the support, benefits and medical treatments that are available.
It is hoped a pioneering roadshow on tour around Northern Ireland will help increase awareness.
On Tuesday and Wednesday it is in Belfast's Newtownbreda area.
It will visit a number of other towns including Newcastle, Dungannon and Enniskillen over the coming weeks.
Thelma Abernethy from the charity said people with concerns should seek medical advice.
"What we have found is a lot of people have come who have some concerns about their own memory and what we encourage them to do is speak to their GP, because it may not necessarily be dementia, it could be some other health condition which has similar symptoms, so we strongly encourage people to go to their GP and ask for an assessment," she said.