Trade unionist Inez McCormack dies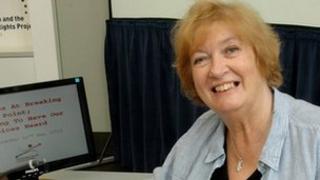 Veteran trade unionist and campaigner Inez McCormack has died.
Ms McCormack began her trade union career in the late 1960s before rising to become president of the Irish Congress of Trade Unions.
She was born in Belfast in 1943 into a working class family and spent most of her adult life fighting for the rights of those around her.
She left school at 16 and later studied social work at Trinity College Dublin and Queens in Belfast.
In the late 1960s she was prominent when the civil rights movement spilled onto the streets.
For decades she campaigned tirelessly for the rights of workers - especially for the low paid - first with the union NUPE and then UNISON.
In 1998 she paid an important behind-the-scenes role in the 1998 Good Friday Peace Agreement which spawned the current political settlement at Stormont.
But it was her long fight for equality and human rights - especially for women - for which she will be most closely remembered.
A founding member of the Equal Opportunities, Fair Employment and Human Rights Commission, she broke the glass ceiling herself by becoming the first female president of the Irish Congress of Trade Unions.
Ms McCormack was also the founder of and an adviser to the Participation and the Practice of Rights organisation (PPR), which provides support to local disadvantaged communities and groups.
During Bill Clinton's first visit to Ireland as US president, the First Lady Hilary Clinton paid tribute to her work - the beginning of what became an enduring friendship.
On Monday, Mrs Clinton said: "I was deeply saddened to learn of the passing of my dear friend, Inez McCormack.
"For decades, Inez promoted peace and reconciliation in her beloved Northern Ireland and around the world.
"She challenged women and men to find a way to put aside their differences, move past hurt and anger, and work together to end violence and build a fair and lasting peace. It was a tremendous challenge, but Inez met it with joy."
In 2011, Ms McCormack, along with Michelle Obama, Mrs Clinton, Meryl Streep and Mu Sochua (a Nobel Peace Prize nominee from Cambodia), was named by US publication Newsweek as one of '150 Women Who Shake the World'.
She was recognised for her work in enabling women to improve the quality of their lives through spreading the values of human rights.
Her life term work was immortalised when the Hollywood legend Meryl Streep played her in a Broadway play.
At the time Ms McCormack said: "It is very humbling to have your life story represented in this way and a privilege to have an Oscar-winning actress and strong female character like Meryl Streep involved in the dramatisation.
"I have had the privilege of spending a lifetime at the service of warm strong women, who challenged injustice not just for themselves but for the people and communities they cared for and whose only affirmation has been that of their own conscience."
In a statement, Meryl Streep said Inez's life stood "significant" in the lives of the thousands of women and families whose lives she had helped to improve.
"She gave voice to women who had no say in their lives, and hope to others who marked her example. I salute her life," she said.
'Remarkable woman'
Mary Robinson, former president of Ireland and UN Human Rights commissioner said: "Inez was a remarkable woman with a remarkable capacity for friendship.
"It was from Inez I learned that you can achieve much more if you don't need the credit. Her support to me as a close advisor when I served as president was invaluable, but she never appeared in photographs or in the front row."
Former SDLP leader Mark Durkan also paid tribute to Ms McCormack.
"Inez McCormack was impressive and effective in all she did. She stood for workers' rights, for women's rights, for equality and public services," he said.
"She was articulate, compassionate and steadfast. She was immensely charming as well as being intense in her convictions.
"Her contribution to public life went beyond her primary role as a worker's defender, as she helped to benchmark the values, principles and protections that were needed for a fair and stable society."
Susan Davis, chair of the board at Vital Voices said Ms McCormack was "an iconic figure among women leaders worldwide and will be remembered far beyond Northern Ireland."
Patricia McKeown, the regional secretary of UNISON added: "Inez will never leave us in spirit. She has touched the lives of thousands of ordinary women and men and she has succeeded in what she set out to do. She has made a difference.
"Inez constantly battled on shifting sands on some of the most controversial issues such as discrimination, child sexual abuse, rape in marriage and as a weapon of war and a woman's right to choose.
"Her vindication lies in the fact that many of the issues on which she broke the mould are now seen as safe ground for those who came later."