Snow warning in force for parts of Northern Ireland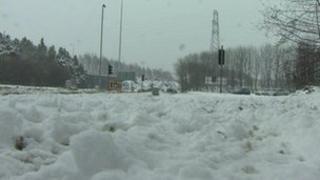 A weather warning is in place for snow in some parts of Northern Ireland on Monday and a number of schools have been closed.
Scattered rain, sleet and snow showers will continue on Monday morning, mainly across east and southeast.
The wintry mix is expected to become more widespread and heavier throughout the day.
Inland parts of Counties Down, Armagh and Antrim will bear the brunt of any falls of fresh snow in the evening.
It is possible that 2cm to 5cm of snow could fall in these areas, with more on the hills.
Details of the latest local forecast are available on the BBC NI weather website.
The Roads Service has advised motorists to exercise caution when travelling, particularly when driving on untreated roads.
A number of schools in the County Antrim area have already been closed due to the weather conditions.
They include:
Ashgrove Nursery School, Newtownabbey, County Antrim
Glenbank Nursery School, Belfast
Lagan College, Belfast
Ligoniel PS, Belfast
Loanends PS, Crumlin, County Antrim
St Mary's on the Hill, Glengormley, County Antrim
St Bernard's PS, Glengormley, County Antrim
However, staff at Lagan College said A-level module exams will continue if students can make their way safely to and from the school.