Warning over ice and snow on Northern Ireland roads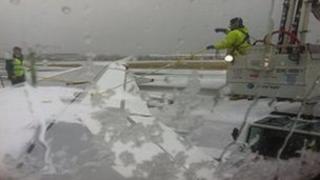 The Met Office has issued warnings of ice until midnight and snow for Monday in Northern Ireland.
The Roads Service has said it planned to salt roads considered to be at risk of freezing.
"Our engineers will continue to monitor conditions and further salting will be carried out where required," it said.
"Drivers are advised to exercise caution when travelling overnight and especially when travelling on untreated roads."
There are reports of difficult conditions on the roads, including the Newry by-pass.
Belfast City Airport's runway was closed for a time on Sunday afternoon so that snow could be cleared from it.
The airport experienced delays and cancellations due to the knock-on effect of weather problems at other UK airports.
Earlier, Northern Ireland Electricity said all the homes without power due to the weather are now back to normal.
At its peak more than 20,000 homes across Northern Ireland were affected as a result of heavy snow and high winds on Friday.
NIE said power was restored to all homes by Saturday night.
Its engineers used a helicopter to get to some of the remote areas which had been affected.
The enhanced content on this page requires Javascript and Flash Player 9
Map Key
Land
Cloud
Lakes, Rivers & Sea
Fog
Light
Heavy
Frost
Light
Heavy
Pressure Fronts
Cold
Warm
Occluded
Rain
Light
Heavy
Extreme
Snow
Light
Heavy
Temperature tab only
Temperature (°C)
More details from BBC Weather