Fermanagh townland confusion being addressed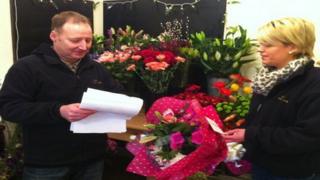 Fifteen thousand rural properties in County Fermanagh are to be given a new address which will be recognised on computer databases for the first time, ending years of confusion and frustration for residents.
The local council has identified every property with a number and road name, along with a townland, giving everyone in the county an official address.
Over the years an unofficial rural address system has evolved in Fermanagh which has resulted in many people having difficulty with mail delivery, credit checks and obtaining goods and services such as mobile phones and car hire.
Concern that a new system would lead to the dropping of traditional townland names has meant local councillors have been arguing over a new official address system since 1986.
On Monday, the council will begin the process of informing residents of their new address, which will include a property number, road name and a townland.
Brendan Hegarty, chief executive of Fermanagh District Council, said: "On some occasions there have been problems with the emergency services actually finding the property and that obviously is a major concern."
Databases
He said the unofficial system was not available in databases which meant government agencies and other service providers did not recognise many rural addresses.
Florist Clare Forde lives near Lisnaskea and currently has four unofficial addresses for her home.
"Derryree is the townland, we're also on the Brookeborough Road, we get Gortacharn and we also get Derryhurdin."
While her local postman has no problem finding her, she does have difficulties with other deliveries.
"Anything bank-related, anything mail order related, you do quite often get problems because they can't decide where you live, so they think you don't exist."
Properties which have not had a road number often get a DP number in online databases which stands for delivery point, but this can refer to multiple addresses across a wide area.
Clare's business partner Anthony Benson is responsible for delivering flowers from their shop in Irvinestown and he says the current system can be a real headache.
"You're basically relying on people to give you directions, second road on the right, first lane on the left and so forth," he said,
"If you did a delivery maybe four or five miles out the road and you've just been given a very vague address it could take you 45 minutes."
It will take time for the new system to be fully implemented, but the council is urging people to start using their official address immediately.
It will also end the anomaly of several hundred homes in Cooneen near Brookeborough which have a County Tyrone postal address despite being in Fermanagh.
The council is sending out letters to properties affected by the change which will include an aerial photograph highlighting their property, along with their old unofficial address if known, and the new address.
The changes can also be seen on the What's My Address? website.
The new system is due to be implemented on 1 February, 2013.
However, Royal Mail is also expected to change the postcodes of some properties but these will not be finalised until the end of March.