Scottish avalanche victim was from Northern Ireland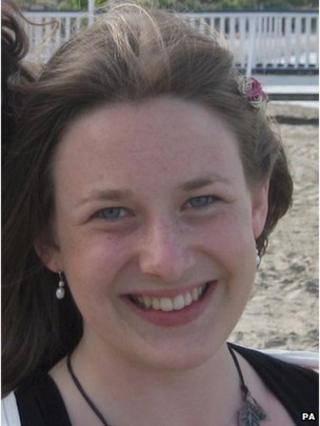 One of the four climbers killed in an avalanche on a Scottish mountain has been named as Una Rachel Finnegan, 25, from County Londonderry,
She had been working in Edinburgh as a junior doctor.
Six climbers were caught up in the avalanche on Bidean Nam Bian in Glencoe at about 14:00 GMT on Saturday.
Nicola Madden, vice-principal of Dalriada School in Ballymoney described her former pupil as a "very bright and talented young student".
"She was caring, considerate, was a great role model and she was actively involved in the Duke of Edinburgh Award scheme in school," Ms Madden said.
"She and her sister both were actively involved in the scheme and probably started their love for the mountains in the school.
"It's very said for it to end in such a tragic manner."
Scotland's First Minister Alex Salmond called it "an appalling tragedy" and said: "To lose four people from a party of six is truly devastating".
Three of the other victims have been named as, Tom Chesters, 28, who was living in Leeds and 24-year-old Christopher Bell, from Blackburn.
The name of the fourth victim, a woman, has not been released yet.
A fifth climber, a 24-year-old woman from the Durham area, is in a critical condition in a Glasgow hospital with serious head injuries.
The sixth member of the party, who survived the avalanche in Glencoe, said they were all "experienced winter walkers".
John Armstrong, who is originally from Newtownards in County Down, is now a mountain rescue trainer in Scotland.
He was in the Glencoe area at the weekend and said that during winter in Scotland, even experienced climbers can be "caught out".
"Although there hasn't been much actual snowfall in Scotland over the last week, it's been very windy, Mr Armstrong said.
"It's the wind that transports the snow and deposits it in these localised areas, creating very unstable wind slabs."
The Reverend Moira Herkes of St Munda's Church, in the Highlands, said it was "the worst accident here for many years".
"It is very distressing, because people come here for pleasure and when something like this happens it hurts everyone involved," said Ms Herkes.
"This is a very beautiful place, but at times it can be very dangerous."
It is understood the group were descending from a peak on the south side of the valley, when the slope they were on broke away.
Five of them were swept down the mountain and engulfed by ice and snow.
John Grieve, leader of Glencoe mountain rescue team, which co-ordinated the search, said the alarm was initially raised by two climbers - who were not part of the group of six - when they discovered one of the casualties lying in the snow.
Soon after, police were contacted by the party's male survivor who told them more people were missing.
A major search operation, involving two mountain rescue teams and police dogs, located the bodies of the climbers.
Bidean Nam Bian is a Munro - a mountain higher than 3,000ft - with a number of different climbs.
Anyone who is concerned about relatives climbing in the area is advised to contact Northern Constabulary's control room on 01463 715555.