Court told snowballs thrown during Ballyclare flag protest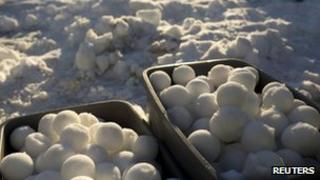 Snowballs were thrown at police during trouble at a loyalist flag protest in Ballyclare, a court has been told.
Two people, one a 17-year-old youth, appeared before Belfast Magistrates Court accused of disorderly behaviour on Saturday.
There were disturbances at The Square in the County Antrim town on Friday.
A PSNI officer told the court he could connect both Thomas Charnley, 48, Thornhill Drive, and the teenager, who cannot be identified, with the charges.
Mr Charnley faces a charge of disorderly behaviour, while the youth is accused of disorderly behaviour, assaulting and resisting police, obstructing a road and possessing cannabis.
Objecting to a bail application for Charnley a police officer described how despite numerous warnings, he tried to force his way through police lines and cursed at officers.
District Judge Ken Nixon released the pair on bail to appear again next week and ordered them to observe a curfew, report to police three times per week and to stay at least 500 metres away from any protest or demonstration.