Weather leaves 150 Northern Ireland homes without electricity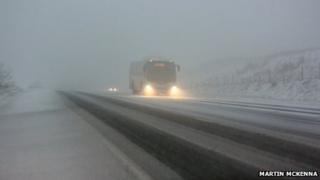 Northern Ireland Electricity has said about 150 homes are now without power, mainly in the Downpatrick area.
Engineers worked through the night and morning as more than 2,500 homes across Northern Ireland were affected as a result of heavy snow and high winds.
Many of those still without power are in hard to reach places.
NIE said its engineers are using a helicopter to get to those areas and restore power as soon as possible.
Driving conditions have returned to normal after gridlock on many main routes on Friday.
The Roads Service said it is continuing to salt roads where needed on Saturday.
Two IFA Premiership football games - Glentoran v Dungannon Swifts and Donegal Celtic v Linfield - were postponed.
Snow showers are to gradually ease on Saturday afternoon and become much more isolated.
However, freezing temperatures are expected across Northern Ireland on Saturday night.
Official figures show Lough Fea in County Tyrone had the highest recorded snowfall in the UK on Friday with 30cms.
Snowfall hit road-users and flights out of Belfast International Airport and George Best Belfast City Airport on Friday.
The International Airport said a flight to Bristol had been cancelled and all other departures to the rest of the UK were running with slight delays.
The airport is open and operational on Saturday morning with only a few minor delays.
Some flights from Belfast City Airport were also cancelled or delayed on Friday evening.
It said any cancellations on Friday evening "were the result of operational decisions taken by the individual airlines".
All ferry sailings were cancelled on Friday between Rathlin and Ballycastle due to the bad weather.
'Standby'
Transport Minister Danny Kennedy said that gritters were on standby to deal with bad weather.
He said that since October, more than 300 staff and over 130 gritters have been salting main roads during the cold spells.
"We are now half-way through the winter period and would expect further icy conditions and snow before the end of March," he added.
"During spells of prolonged snow, all gritters will be fitted with snow ploughs and efforts directed to clearing snow from motorways and the trunk roads, before moving to other main roads and the busiest urban link roads."
He added that the operation will continue until all roads were cleared, but warned "this may take some time, even with all resources deployed".
In very deep snow, Roads Service will use its nine snow blowers, the latest of which can shift 1,600 tonnes of snow an hour.
Any school closures will be listed on BBC Northern Ireland's digital text on the red button service.
The enhanced content on this page requires Javascript and Flash Player 9
Map Key
Land
Cloud
Lakes, Rivers & Sea
Fog
Light
Heavy
Frost
Light
Heavy
Pressure Fronts
Cold
Warm
Occluded
Rain
Light
Heavy
Extreme
Snow
Light
Heavy
Temperature tab only
Temperature (°C)
More details from BBC Weather