Jim Allister and Ian Paisley Jr settle libel case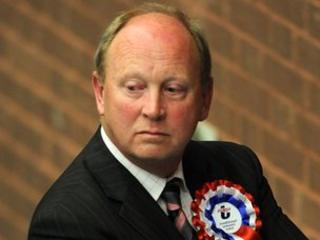 Jim Allister and Ian Paisley Jr have settled their libel case over the contents of an election leaflet.
Mr Allister took legal action against Mr Paisley over claims he made in his election pamphlet.
The pair stood against each other in the 2010 Westminster election.
The resolution was confirmed on Friday ahead of a jury trial that was due to begin at the High Court in Belfast next week.
A judge was told the settlement took into account the wider interests of unionism, with both sides paying their own costs.
Mr Allister had sought to have distribution of the leaflet banned before the election.
He claimed it could have serious consequences because of the potential impact on the thinking of voters in the constituency.
Although he failed to secure an injunction, his legal team then launched defamation proceedings against Mr Paisley and the leaflet's printers.
A jury was due to be sworn in on Monday for what was expected to be a week-long trial.
But ahead of the hearing lawyers announced in court that a settlement had been reached.
David Scoffield QC, appearing with Aiden Corrigan for Mr Paisley, read out a statement agreed with Mr Allister and his barrister Alan Kane QC.
He said: "This matter has been resolved between the parties on the following basis, taking account of the wider interests of unionism at the present time, with the parties also agreeing that no further public comment will be made by any of them concerning this action or its resolution.
"The plaintiff discontinues his action against the defendants and there will be no order for costs between the parties."
Continuing with the statement, Mr Scoffield added: "The defendants accept that all the fees received by the plaintiff for work carried out in the criminal courts were in respect of cases completed prior to his election as MEP.
"The defendants accept that the plaintiff did not personally negotiate with Sinn Fein."
Following the confirmation Mr Justice Horner praised both sides for reaching a settlement.
"I would like to congratulate the parties and their legal representatives in coming to a solution in what was a difficult and complicated case that would have run for a considerable amount of time and expended a lot of costs," he said.