Northern Ireland on amber alert for snow disruption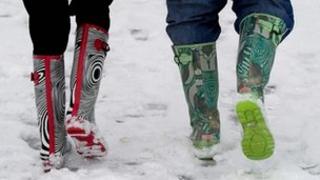 The Met Office has warned that Northern Ireland drivers should prepare for snow on Friday and over the weekend.
An amber alert, the second highest alert, advises that people should be prepared for potential disruption caused by snowfall.
BBC NI weather presenter Barra Best said up to 20 centimetres was expected over hills and mountains.
He warned, however, that some low-level areas could see several centimetres of snow.
There are reports coming in of snow in Derrylin, County Fermanagh; Spelga Dam, and Kilcoo, County Down.
Transport Minister Danny Kennedy said that gritters were on standby to deal with bad weather.
'Icy conditions'
He said that since October, more than 300 staff and over 130 gritters have been salting main roads during the cold spells.
"We are now half-way through the winter period and would expect further icy conditions and snow before the end of March.
"During spells of prolonged snow, all gritters will be fitted with snow ploughs and efforts directed to clearing snow from motorways and the trunk roads, before moving to other main roads and the busiest urban link roads."
He added that the operation will continue until all roads were cleared, but warned "this may take some time, even with all resources deployed".
In very deep snow, Roads Service will use its nine snow blowers, the latest of which can shift 1,600 tonnes of snow an hour.
Mr Kennedy said: "I would urge motorists to take care on the roads. The best advice is in the Highway Code - drive with care even if roads have been salted, be prepared for road conditions changing over short distances and take care when overtaking gritters.
"I would again remind the public to make sure their homes including outside pipes are well insulated and that we all keep an eye on our vulnerable and elderly neighbours."
Any school closures will be listed on BBC Northern Ireland's digital text on the red button service.
The enhanced content on this page requires Javascript and Flash Player 9
Map Key
Land
Cloud
Lakes, Rivers & Sea
Fog
Light
Heavy
Frost
Light
Heavy
Pressure Fronts
Cold
Warm
Occluded
Rain
Light
Heavy
Extreme
Snow
Light
Heavy
Temperature tab only
Temperature (°C)
More details from BBC Weather