'Stay strong' former hostage John Douglas urges NI man's family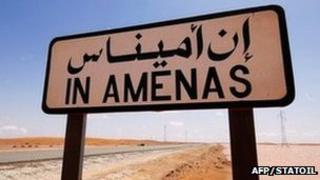 A former Royal Irish Regiment (RIR) officer who was held hostage in the Democratic Republic of Congo in 2000 has urged the family of a Northern Ireland man kidnapped in Algeria not to give up hope.
John Douglas, a former RIR lieutenant colonel, said a lot of people would be working very hard to secure the hostages' release.
The Northern Ireland man is being held at a gas facility at In Amenas, in the east of Algeria, along with about 20 other foreign nationals.
The kidnappers attacked and occupied the complex on Wednesday, after killing a Briton and an Algerian.
Mr Douglas was kidnapped in the Congo in 2000 and was also second in command of a Royal Irish battalion when members of a patrol were abducted by rebels in Sierra Leone in the same year.
"I think the message that I'd like to give to the family is that, although things might seem dreadful and hopeless at the moment, in both of the incidents that I was involved in, I was released and also the Royal Irish soldiers were released safely as well," he said.
The former officer, who often works in the Middle East, said there were a number of things the hostages could do to help their chances for survival.
"It's very important to keep your head down, not to antagonise them (the kidnappers) in any way, not to get agitated or indeed violent," he said.
"Try and create a relationship with them, try and make sure they understand they're dealing with a human being, try to be friendly, try to smile, try to create that kind of relationship.
"For every moment you're still alive, that is a precious moment for the security forces, for the intelligence services, to gather a picture and formulate a plan."
He said any rescue operation would be hampered by the fact that the hostages were of several different nationalities and the kidnappers were fundamentalists.
"If a rescue operation is organised there will be all sorts of political negotiations that have to take place - who has precedence, is it the French, is it the British, is it the Americans, we don't know," Mr Douglas said.
"The difficulty with Islamic fundamentalists is that there is a religious aspect to it, some of these insurgents are quite happy to die for their cause, so that makes it a much more challenging operation for the intelligence and security services to go and try and release them."
Mr Douglas has dual British and Irish nationality and said when he is working in a country such as Yemen, he uses his Irish passport.
"Having said that I don't think the nationality of the hostages will be of too much concern to the insurgents," he added.
"They will split them into categories - Americans will probably be the most valuable, British next and then any white European will have a value.
"Lesser bargaining from their point of view will be people from the Asian sub-continent.
"They're almost like chips in a game and each will have a monetary, or political, or media value. That's pretty much how they will look at it, very harsh though it might seem."