Theresa Villiers says 'dialogue must replace street violence'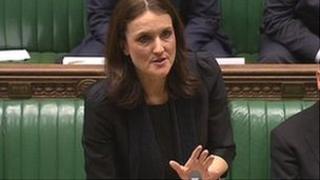 The secretary of state has said it is time for political dialogue to replace street protests in Northern Ireland.
Teresa Villiers was speaking after talks with the first and deputy first ministers and the Irish foreign minister.
The meeting, at Stormont, focussed on the recent protests and violence over the union flag.
It follows a decision by Belfast City Council to limit the number of days the flag is flown at the City Hall.
The Northern Ireland Office (NIO) said Thursday's meeting, which lasted about two hours, had been arranged some time ago.
Discussions focussed not just on the flag protest, but on the need to address long-term issues, such as underlying sectarianism.
Speaking after the meeting, the secretary of state described the talks among party leaders this week as "very promising" and said there was unity at the meeting about the need to end the street protests.
"This violence is intolerable and these protests have to come off the streets and be replaced by dialogue," she said.
"I think we should also keep this in proportion and reassure the rest of the world that Northern Ireland is still a great place to do business in, still a great place to visit and I'm confident the political parties will find a way forward."
Ms Villiers said the British and Irish governments were there to support politicians to unite communities.
She said Northern Ireland leaders could find a resolution to the flag issue.
Irish Foreign Minister Eamon Gilmore, who is also the deputy prime minister, described the meeting with the secretary of state and First Minister Peter Robinson and Deputy First Minister Martin McGuinness as "positive and productive".
He said the worrying images of violence that had been broadcast around the world in recent weeks had the potential to undo progress, so a positive message was required in response.
Mr Gilmore said there had also been discussions on a new round of European peace funding for Northern Ireland.
On a visit to east Belfast on Wednesday, Ms Villiers repeated her message that the protests were actively counterproductive and had to stop.
The secretary of state, who met residents during her visit, described the recent violence in the city as "intolerable".
She said it was vital that the loyalist protestors came off the streets so that a grown-up discussion could be held about how to resolve issues of identity, symbols and flags.
Loyalist street demonstrations have been taking place since Belfast City Council voted to limit the number of days the union flag is flown at Belfast City Hall.
The majority of the street demonstrations have passed without incident, but some have resulted in serious rioting.
Since the vote was passed on 3 December, 102 police officers have been injured and there have been 116 arrests.