Belfast motorists warned of new roadworks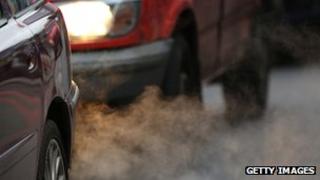 Motorists using Belfast city centre should expect delays at the end of the month due to a new series of roadworks.
Minister for Regional Development Danny Kennedy said the next phase of the Belfast on the Move works will begin on 28 January.
The aim of the scheme is to encourage more people to used public transport, cycle or walk.
Mr Kennedy said the first phase of the scheme had been a success with traffic down and a rise in people on the bus.
"The aim of Belfast on the Move is to make the city centre more accessible to everyone," he said.
"To achieve this we are encouraging the use of public transport for those who can readily access it and at the same time creating more road space for those who are simply unable to use public transport."
He said that since November 2011 Metro services have increased by about 1,500 passengers per day and use of Belfast's bus based park and ride services had risen by 15%.
Mr Kennedy said there would be disruption caused by the work, which should be completed by the summer.
"It is expected that, like phase one, there will be a 'bedding in' period for the new works," he said.
"We would therefore ask everyone to be patient and allow extra time for their journey.
"We will, of course, do all that we can to minimise disruption - work is scheduled to be carried out at off peak times to avoid undue delay to commuter traffic; and resurfacing will be carried out at weekends and overnight where possible."
LIST OF ROADWORKS IN BELFAST
Great Victoria Street (Hope Street to Grosvenor Road) and Fisherwick Place - lane reallocation and introduction of a northbound bus lane
Grosvenor Road (Durham Street to Great Victoria Street) - lane reallocation
College Avenue and College Square East - lane reallocation and introduction of a southbound bus lane
Victoria Street - introduction of a cycle track from Chichester Street to Gloucester Street
Ann Street - introduction of a two-way cycle track from Victoria Street to Oxford Street
College Square North, Durham Street and Grosvenor Road - resurfacing
Wellington Place, Donegall Square North, Donegall Square East and Chichester Street - lane reallocation and introduction of bus lanes