Real IRA murders: Brian Shivers faces Massereene retrial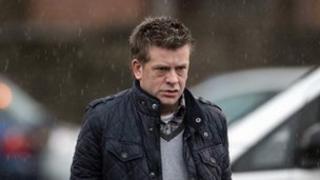 A man whose convictions for murdering two British soldiers were quashed should face a retrial, Northern Ireland's Court of Appeal has ordered.
Sappers Mark Quinsey, 23, from Birmingham, and Patrick Azimkar, 21, from London, were shot by the Real IRA outside Massereene army base in 2009.
The court ruled convictions against Brian Shivers, 47, were unsafe.
Crown barrister Terence Mooney said Shivers still had a case to answer.
He told the three appeal court judges: "We submit it's in the interest of justice that you may order a new trial."
Mr Mooney said there was still a matter to be decided of whether Shivers, who was in court for the hearing, had foreknowledge of the attack and was part of the wider murder conspiracy.
Counsel for the defence argued that as the appeal judge had rejected key elements of the original prosecution and trial, if the same evidence was to be relied upon in a retrial, as it undoubtedly would, then that could potentially call into question the integrity of the administration of justice.
However, after considering the submissions Northern Ireland's Lord Chief Justice Sir Declan Morgan said a retrial was in the interest of justice.
He said issues about the integrity of the evidence could be argued in front of the trial judge, who would be hearing the case in the absence of a jury or before another court.
On Tuesday, the court said that no finding had been made by the trial judge about when Shivers, from Magherafelt, allegedly became aware of the murder plot and quashed the murder convictions.
His appeal against additional convictions on six counts of attempted murder and one of possession of firearms and ammunition with intent to endanger life, was also allowed by the Court of Appeal.
The mother of Sapper Azimkar said she felt "let down" by the justice system..
Last February, Shivers was ordered to serve a minimum 25 years in prison for his part in the killings.
His co-accused, Colin Duffy, a 45-year-old republican from Lurgan, County Armagh, was acquitted of all charges, including the two murders.
Shivers, who suffers from cystic fibrosis, was originally found guilty as a secondary party who aided and abetted by setting fire to the getaway car.
DNA analysis had established a link to matches found in the partially burnt-out Vauxhall Cavalier used by the gunmen.
But Shivers' lawyers argued that it was legally impossible for him to be convicted of murder because there was no actus reus, or criminal act, prior to the murder.
Lord Chief Justice Sir Declan Morgan said the trial judge had not dealt with the concept of a joint enterprise.
Shivers' legal team is now expected to seek permission to make an application on a point of law to the Supreme Court in London.
If the move is successful, it could delay the retrial provisionally scheduled for 4 March.