Massereene victim's mother feels "let down"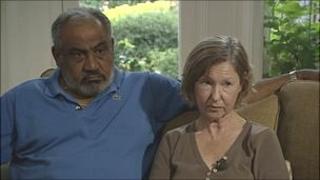 The mother of one of two soldiers murdered in Northern Ireland has said she feels let down by the justice system.
Sappers Mark Quinsey, 23, from Birmingham, and Patrick Azimkar, 21, from London, died in a Real IRA attack.
Geraldine Azimkar spoke out after the Northern Ireland Court of Appeal quashed the conviction of Brian Shivers for the murders, ruling it unsafe.
"We feel very let down by the criminal justice system," she said.
"It does not seem to work for the victims of crime. The whole thing is awful from start to finish."
The Public Prosecution Service (PPS) must consider whether to apply for a retrial for the 47-year-old from Magherafelt, who has cystic fibrosis.
He will remain in custody pending that decision.
Last January, judge Mr Justice Anthony Hart, who has now retired, found that Shivers set fire to the getaway car used in the attack.