Child killer Robert Black 'used signature method' to dump body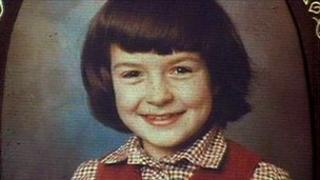 A serial child killer deployed his signature method when he dumped the body of a County Antrim schoolgirl, the Court of Appeal in Belfast has heard.
Robert Black, 65, from Grangemouth in Scotland, is attempting to overturn his conviction for Jennifer Cardy's murder.
The nine-year-old was kidnapped and killed 31 years ago.
Appeal court judges were told of striking similarities between her death and that of three other young girls who he was also convicted of murdering.
Abused
Jennifer was attacked as she cycled to a friend's house in Ballinderry in August 1981.
Her body, suspected of being sexually abused, was discovered nearly a week later at a dam near Hillsborough, County Antrim.
Black, a former delivery driver, was said to have been in Northern Ireland at the time on a work trip for a London-based poster dispatch firm.
In 2011, he was found guilty of kidnapping and murdering Jennifer and ordered to serve at least 25 years in prison.
It emerged during the six-week trial at Armagh Crown Court that he had already been convicted of killing three other girls, abducting a fourth, and attempting to kidnap another.
Criminal history
Jurors were told how he was jailed at Newcastle Upon Tyne Crown Court in 1994 for three unsolved murders from the 1980s - those of 11-year-old Susan Maxwell, from the Scottish Borders, five-year-old Caroline Hogg, from Edinburgh, and Sarah Harper, 10, from Morley, near Leeds.
Black's criminal history was introduced in an attempt to show similarities with Jennifer's killing and prove his guilt.
His legal team have based their appeal on a claim that his criminal past was wrongly revealed to a jury.
They contended that the trial should have been halted due to a lack of identification evidence against him.
But Toby Hedworth QC, for the prosecution, argued that Black's abnormal propensity for targeting pre-pubescent girls was strong evidence of his guilt.
Bound and gagged
He set out how the Scotsman was eventually found guilty of an unsolved series of child killings after being caught while trying to abduct another girl in the Scottish borders.
She was discovered bound and gagged inside a sleeping bag in the back of his van. A sexual assault had already been carried out.
"Suddenly that particular behaviour could be fed into the system and seen whether or not that tied up with any of those outstanding cases," Mr Hedworth said.
The barrister claimed there were significant similarities between the Jennifer Cardy case and those of the other three child killings.
"The body is left behind a lay-by under water," he explained.
Dissimilarity
"Here really was a signature, because you have an extremely unusual crime, but it is perpetrated in such a way that one of the most distinctive features is the deposition of the body."
Mr Hedworth also rejected defence arguments that the removal of shoes amounted to a dissimilarity in the Jennifer Cardy case.
He said Black had been "proven to have been a serial abductor and murderer, developing his technique".
The appeal continues.