Union flag dispute: East Belfast bus services diverted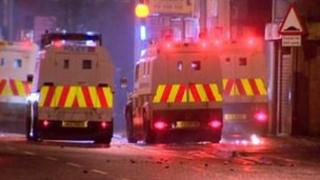 The violence that has followed some union flag protests in Belfast has led Northern Ireland's public transport provider to change some bus services.
Translink has said its evening bus services to east Belfast will operate with diversions "until further notice".
The company said it had "no option" but to divert its vehicles after further rioting in the area on Monday night.
There were two attempts to hijack buses during the trouble - one driver was injured and needed hospital treatment.
The street protests, which have been taking place for six weeks, are being staged against Belfast City Council's decision to limit the number of days the union flag is flown at the city hall.
The company said that since the unrest started passenger travel patterns have changed, with fewer people taking evening and Saturday services. However, there has not been an overall drop in passenger numbers.
Translink's chief executive, Catherine Mason, said: "The safety of our passengers and employees is a priority and our highest concern.
"Last night, in an attempted hijacking one of our drivers sustained facial injuries - our thoughts and concerns are with him and our other colleagues who have been impacted by this recent disorder.
"In light of this we have no option but to adjust our evening bus services to continue to operate safely.
"We would thank our colleagues driving buses who have continued to deliver services as far as they could in these difficult circumstances and worked hard to get passengers home. We have received many expressions of thanks and support," Ms Mason added.
The route changes follow talks between the company, trade unions and the police.
Translink said it would "continue to monitor the situation in east Belfast and all other parts of the city and take appropriate action when required".
Further information on the services affected can be found on Translink's website.