Men in Ireland learning to shed inhibitions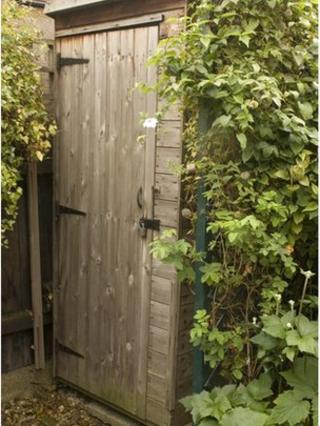 Men in Ireland are shedding inhibitions after adopting an Australian approach to wellbeing.
Australia is nearly 10,000 miles from Ireland, but one idea from the southern hemisphere has been finding kindred spirits in more northerly latitudes.
In the 1990s a movement started growing in Australia after concerns were raised that men heading towards retirement were not socialising as much or discussing their wellbeing.
The solution, the humble shed. Well, a slightly larger variant where men could meet to talk and work together on projects to benefit their communities.
It has grown and there are more than 800 such sheds across Australia. The idea has caught on in other places, but most notably Ireland, which with 100, has the largest collection of men shed groups outside Oz.
Eva Beirne is the Men's Shed Coordinator in Dundalk in County Louth.
With funding from the International Fund For Ireland they have opened three sheds in Dundalk, Drogheda and Cooley.
"Ours are aimed at 50-plus, men about to retire to keep their skills going and active.
"There are different courses aimed at them. Some are woodworking, art and the men work on different projects as well the team in Seaton made a chariot for the Tain summer festival in Dundalk."
Other sheds contribute to different community projects and Ms Beirne said that there have been health benefits for the men involved.
"We've been keeping a list of how many visits to the doctor they have been making. For some their Monday morning would have been off to the doctors," she said.
"The research isn't finished yet, but I can tell you that there are a lot fewer visits to the doctor now."
Pat McCann is trying to set up a men shed near a peace-line in west Belfast.
He said that during the Troubles a lot of men got into the habit of staying in the house to avoid the dangers of the street and among the generation that grew up during that period this mindset has remained.
"Men don't really talk face to face, they talk shoulder to shoulder when they are doing something in a group," he said.
"There is a social aspect to this, but men don't necessarily want to be as some of them say 'sitting about jegging like old women' they would be doing crosswords, reading the paper that sort of thing.
"But to get working on things together would be great."
While Pat is on the hunt for funding other sheds have been running in Northern Ireland for a while.
One was started in Armagh just over a year ago. Since then 46 men have signed up to use it.
It is supervised by Stephen McCleary who said that it can keep skills learned over a lifetime in use and men in touch with each other.
"The shed recreates the banter of the factory floor," he said.
"But the guys can be learning new skills like computing, some of them have even been Skyping family in Australia.
The men have been working on building community gardens in the city and the Armagh group has applied to the Big Lottery Fund for a grant for larger premises to use to fix bikes and other projects.
"There are the health benefits as well. Sometimes if a man is by himself he may go for days without seeing someone, or get into a rut where they're watching a lot of daytime television. This helps keep depression away," Stephen said.
"After a while when they have got to know each other they talk about their health and issues, from aches and pains to prostrate problems and what to do about them."