Northern Ireland plastic bag levy is approved in Assembly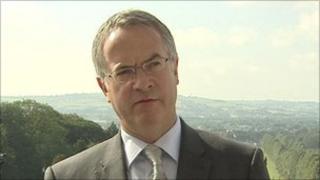 A plastic bag tax, which will charge customers five pence for every carrier bag supplied to them by retailers, is to be introduced in Northern Ireland.
The regulations were approved by the Assembly on Monday.
They will come into effect on 8 April.
The proceeds of the levy will be forwarded to the Department of Environment.
Environment Minister Alex Attwood said he hoped to see an 80% reduction in the use of carrier bags as a result of the levy.
"Recent statistics have shown a significant increase in single use carrier bags handed out by major supermarkets in Northern Ireland, it is the big retailers which I am most interested in," he said.
"We can reduce the number of carrier bags by at least 80%, this levy helps.
"This is an area where consumers can really help the environment.
"The image of Northern Ireland as "green & clean" - a major part of the character of our lives and the appeal of this place - can be deepened if we deal decisively with carrier bags and the damage they cause."
The levy also applies to bags made from paper, plant-based material or natural starch.
The regulations also provide for a range of exemptions from the levy on the grounds of hygiene and food safety, the protection of both goods and consumers and confidentiality in respect of prescription medicines.