Families on both sides of Belfast divide 'live in terror'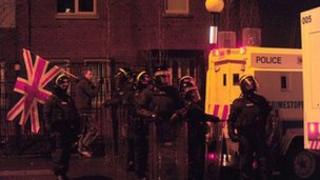 An east Belfast interface area has been the scene of violence linked to protests over the decision to restrict the flying of the union flag at Belfast City Hall in recent days.
Residents of both the nationalist Short Strand and Protestant areas off the lower Newtownards Road and Albertbridge Road say their houses have been attacked.
The area has been the scene of inter-communal violence in the past.
Two residents told the BBC's Nolan Show what it was like to live in the flashpoint area.
Thomas McNulty has lived in his Short Strand home for 24 years. It was one of the homes attacked by loyalists on Monday night.
"I was sitting in the house watching television, when suddenly I heard a lot of shouting and yelling and over came a lot of petrol bombs, stones and bottles," he said.
"Of course we were frightened, it's only me and the wife here and we're pensioners
"The next thing was the whole place was in an uproar. Trying to get through to the police last night was impossible, maybe because of the rioting.
"Last week, on three different nights we were attacked with paint bombs."
He said it would be impossible to move from the area, as no-one would buy his house.
"You couldn't offload this house at the moment, not even if you were giving it away. You couldn't move anywhere else," Mr McNulty said.
'The Alamo'
He said the house had been targeted many times in the past.
Of previous incidents, he said: "To tell you the truth, they've all been very similar.
"I used to call this place Shangri la because it was so peaceful at times. I took the sign down and put another sign up 'The Alamo'.
"It's no way to live, not in this present day and age, especially at our time of life."
He said he did not know how those behind the attacks could be reached.
"What could you say to them, they don't listen to anybody," he said.
"They don't listen to their own community people, they just go out and do what they want to do, whether there's somebody behind it or not, who knows."
A woman, who did not want to be identified, said her sister's home on the lower Newtownards Road was also attacked on Monday night.
"We had to move children from six years old to one year old from their home in fear, terrified, their mother in tears," she said.
"I sat last night and I cried because I felt helpless to help my family.
"I met my six-year-old going to school this morning saying to me 'I saw the fires, why were there bricks and bottles being thrown at my house last night?'
"That's what he said going to school, a six-year-old child. You tell me what future they have."
'Families terrified'
She added: "At the minute my family are terrified to the point that one of my family members said to me last night 'how do I get out of this house? How can I move?'
"I'm nearly 40 years of age and I've lived here all my life and I don't see any future for my children with the state of what's going on now.
"People in their homes in the Protestant community were terrified last night."
She said it had to be made clear that homes on both sides of the interface are being attacked.
"The media needs to say that nationalists and Protestant families, both sides, have families who are terrified," she said.
"My sister lives with grilles on her windows, she's had paint (thrown), she's had her windows put in, she's had a for sale sign put through her window.
"Can you tell me kids need to witness that in this day and age? The blame needs to be put on both sides."