Constable Stephen Carroll Foundation launched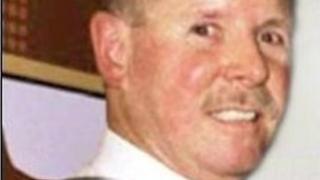 A foundation in memory of murdered police officer Constable Stephen Carroll has been launched at Stormont.
One of its aims is to promote the efforts of young people in helping to bring lasting peace to Northern Ireland.
The 48-year-old PSNI officer was shot dead by dissident republicans as he responded to a 999 call in Craigavon in March 2009.
His widow Kate said it was important to move forward.
"We can work together. We're all born the same way and we die the same way," Mrs Carroll said.
"If people only realised that life was very, very short and very, very precious there wouldn't be any of this fighting
"We only get a certain amount of years and we should use them wisely."
Constable Carroll was the first member of the Police Service of Northern Ireland to be murdered.
He died just 48 hours after two soldiers were shot dead by the Real IRA at an army base in Antrim.
Two men were last year convicted of Constable Carroll's murder.
John Paul Wootton, who was 17 at the time of the murder, was sentenced to life imprisonment with a minimum term of 14 years to be served before he is considered for parole.
Brendan McConville will serve a minimum of 25 years for the murder.