Child killer Robert Black's past 'wrongly revealed'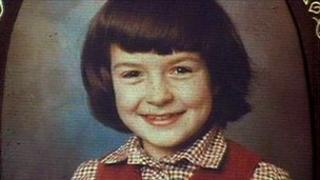 Robert Black's criminal past was wrongly revealed to a jury who found him guilty of kidnapping and murdering a County Antrim schoolgirl, the Court of Appeal has been told.
Judges were also told that the 65-year-old's trial should have been halted due to a lack of identification evidence.
Black is attempting to overturn his conviction for murdering nine-year-old Jennifer Cardy.
She was abducted as she cycled to a friend's house in August 1981.
Her body was discovered nearly a week later at a dam near Hillsborough, Co Antrim.
Black, a former delivery driver from Grangemouth in Scotland, was said to have been in Northern Ireland at the time on a work trip for a London-based poster dispatch firm.
In 2011, he was found guilty of kidnapping and murdering Jennifer and ordered to serve at least 25 years in prison.
Similarities
It emerged during the six-week trial at Armagh Crown Court that he had already been convicted of killing three other girls, abducting a fourth, and attempting to snatch another.
Jurors were told how he was jailed at Newcastle Upon Tyne Crown Court in 1994 for three unsolved murders from the 1980s, those of 11-year-old Susan Maxwell, from the Scottish Borders, five-year-old Caroline Hogg, from Edinburgh, and Sarah Harper, 10, from Morley, near Leeds.
Black's criminal history was introduced in an attempt to show striking similarities with Jennifer's killing and prove his guilt.
But opening his case at the Northern Ireland Court of Appeal in Belfast, defence counsel David Spens QC said: "The trial judge erred in admitting evidence of the defendant's bad character."
Black's fantasies about abducting young girls, recorded in 2005 during his interviews with detectives investigating Jennifer's case, were played at trial.
"The Crown suggested that those fantasies where in fact a reflection of what he had done to Jennifer Cardy," Mr Spens said.
"The defence point was that they were nothing more than a fantasy."
Dressed in a red sweatshirt and jeans, and flanked by a prison guard, Black listened intently as the arguments were set out.
Mr Spens further contended that the trial judge should have stopped the case at the end of the prosecution case on the basis that available identification evidence was insufficient to prove Black carried out the murder.
He told Lord Chief Justice Sir Declan Morgan, Lord Justice Higgins and Lord Justice Girvan: "All the court would have had would have been evidence of opportunity and evidence of propensity. Nothing more."
The appeal continues.