Omagh bomb: Retrial of Colm Murphy and Seamus Daly begins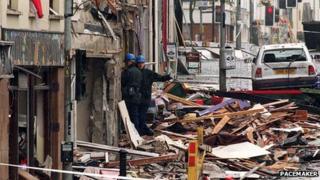 The civil retrial of two men being sued over the 1998 Omagh bombing is under way.
Colm Murphy, from Dundalk, and Seamus Daly, from County Monaghan, are defending an action by relatives of some of the 29 people killed in the Real IRA attack.
They were ordered to face a retrial after their appeals against being held liable for the bombing were upheld.
On Monday, a lawyer for relatives of some of the victims opened the case.
Lord Brennan QC told the court Mr Murphy provided two mobile phones to the Real IRA bombers.
He said Mr Daly used one of the phones during the bomb run between Dundalk and Omagh.
The court was also shown documents that track the calls made, using information from cell masts, on the day of the bombing.
The lawyer said it showed the movements of a "scout car", adding that it was what you would expect if a car travelled to Omagh to get the all clear before reporting back so the car containing the bomb could be put in place.
"How did those telephones come to be used on the bomb run?" he said. "It takes a lot of explaining."
Lord Brennan QC added that if the pair did not give evidence, an inference would be drawn against them.
He said it was "just common sense" that if the pair did not turn up it would be inferred that "they are treating this court and this case with, putting it generously, indifference".
On Monday afternoon the court is hearing from a police investigator who was involved in analysing phone records and cell site information.
Two other men found responsible in the initial ruling previously failed to have the findings against them overturned.
They are convicted Real IRA leader Michael McKevitt and fellow dissident republican Liam Campbell.
Last week it emerged they are seeking to go before the European Court of Human Rights to overturn the ruling.
No-one has been criminally convicted of the bomb attack that devastated the County Tyrone market town in August 1998. Among those killed was a woman pregnant with twins.
But McKevitt, a convicted Real IRA leader serving a 20-year jail sentence; Campbell, a farmer from County Louth currently fighting extradition to Lithuania over gun smuggling allegations; Colm Murphy, a Dundalk-based builder and publican; and Seamus Daly, from County Monaghan, were all held liable for the bombing in a civil ruling in 2009.
Mr Justice Morgan, who is now Northern Ireland's Lord Chief Justice, ordered them to pay £1.6m in compensation.
The Court of Appeal subsequently upheld Mr Murphy and Mr Daly's challenges to the verdict and ordered them to face a re-hearing.