Les Miserables: Local actor holds screening in Cookstown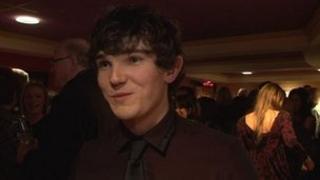 There may not have been a red carpet and hordes of screaming fans, but for Dungannon-born actor Fra Fee, seeing the opening night of Les Miserables at the Ritz Cinema in Cookstown was every bit as big a deal as the world premiere in London last month.
"In many ways, I think tonight's even more special, because my friends and my family, those that I love, are here," he said.
"It's really special for them and it's great to be here with them, watching it."
Fra was one of just two actors to make it from the current stage production to Tom Hooper's big screen version.
In the movie, he plays Coufeyrac, a revolutionary student and Friday's big family gathering for the opening night was thrilling for him too.
Awards
"I've just seen it the one time at the world premiere in London, so I'm actually excited to see it myself again and not just be looking out for where I am in the picture. So I can take it all in, because it's an incredible film," he said.
And the critics would seem to agree. The film picked up three Golden Globes and with nine BAFTA and eight Oscar nominations, it looks like a busy award season ahead.
"Obviously I'm biased because I'm involved with it, but we all knew we were part of something quite special when we were doing it. It's great to see it getting the recognition it deserves," he said.
"I would put my life savings - which isn't a lot - on Anne Hathaway wining the Oscar. She gives an absolutely sensational performance, she just gave it every bit of life that she has.
"Her mum coincidentally played Fantine in the US regional tour production of the musical 20 years ago or so, so she has an affinity with the role and yeah, she's brilliant."
But among the crowd at the Ritz Cinema on Friday night, all the applause and cheering at the end was for the local man. His parents were particularly proud.
"I just feel extremely emotional," said his mother, Colette.
"Overwhelmed and very proud, very proud of Fra. It's been a wonderful night, all his friends, all his family, everyone's been so supportive. He's a lovely son - the best."
His father Frank joked that Fra was "pretty good for an amateur".
Proud
"First time out, I'm very pleased for him. The boy done good, hope they pay him plenty," he said.
His big sister Mairead, who had accompanied Fra to the world premiere last month, was also delighted.
"I got all my crying done at the premiere, but still, on my gosh, my heart's just completely beating here, completely overwhelmed with pride," she said.
Mairead helped organise the gathering of 130 on Friday night.
"It sort of just snowballed," she said.
"It started off just 20 close friends and family, then as word spread throughout the county, everyone just wanted to be a part of this and it's been absolutely fantastic. Everybody's in great form, so proud and just a lovely celebratory night for Fra.
"He's a wee star."