Belfast flag protests: Interface worker in plea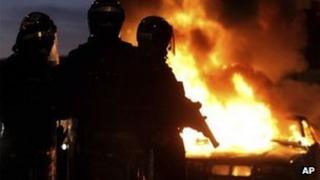 A Belfast interface worker has called on the authorities to keep protesters away from interface flashpoints.
Twenty-nine police officers were injured at the weekend in rioting at east Belfast's Short Strand interface.
It followed a loyalist protest over the decision to restrict the flying of the union flag at Belfast City Hall.
Joe O'Donnell, director of the Belfast Interface Project, said keeping rival groups apart is vital, or years of cross-community work will be destroyed.
"If the protests are to continue a good step would be to move them back from interface areas," Mr O'Donnell said.
"That would immediately start to bring a calm to the situation.
"It would give an opportunity for people to begin to engage, to try and talk to each other, to try and rebuild, to ease the tensions and to try and pick up the pieces."
Riot police separated a crowd of about 200 loyalists from a nationalist crowd from the Short Strand area on Sunday night.
Two main roads in east Belfast were blocked for a time and some missiles were thrown during a stand-off near the interface. However there was no serious trouble.
Belfast Chamber of Trade and Commerce is to meet later this week to discuss the effects of the ongoing protests on business.
The chamber said they are causing continuing hardship for the business community.
The meeting has been arranged to hear first hand from business owners.
'Wrecking our own areas'
Meanwhile, senior leaders of a loyalist paramilitary group have said violent opposition to the union flag decision must stop.
A senior Ulster Defence Association (UDA) figure said loyalists were playing into Sinn Féin's hands.
Jimmy Birch, from the organisation in east Belfast, was speaking in an interview for a BBC Radio Ulster documentary, Inside The Flag Protests.
"Every time they call a tune, we take to the streets," he said.
"We are wrecking our own areas, we fight with the police, we are burning our own cars and we stop our own people going to work and coming home from work and disrupt our own people's way of life.
"It is wrong, we need to step back and we need to stop being predictable."
Mr Birch said UDA members had been told not to take part in rioting.
He acknowledged the union flag decision by Belfast City Council was a democratic vote and said politics was the only way the issue could be resolved.
Northern Ireland First Minister Peter Robinson and Deputy First Minister Martin McGuinness are due to meet the British and Irish governments this week.
Mr Robinson said it was important to tell the wider community in Northern Ireland and the UK that politicians had not given up on a "shared society".
He said the political process was the only way forward.
Officers fired six baton rounds and used water cannon during the 40th day of street protests on Saturday.
The rioting began at about 14:30 GMT, when loyalists and nationalists clashed at a sectarian interface in the east of the city.
A 32-year-old woman will appear in court in Belfast on Monday in connection with the rioting. She has been charged with disorderly behaviour and obstructing police.
Meanwhile, at least 1,000 people gathered outside Belfast City Hall at lunchtime on Sunday to protest against the violence.
There were no speeches, but for five minutes they clapped, cheered, whistled, and banged drums in what they called an "anti-silence".
People said they were representing "the silent majority" who were opposed to violence and trouble.
Loyalist street demonstrations have been taking place for almost six weeks, since Belfast City Council voted to change its longstanding union flag policy on 3 December.
The council, which now has more nationalist members than unionists and with the Alliance party holding the balance of power, voted to fly the flag at Belfast City Hall on a number of designated days, rather than every day of the year.
The majority of the street demonstrations have passed without incident, but some have resulted in serious rioting in which 99 police officers have been injured.
To date 112 people have been arrested, of whom 85 have been charged.