Heart monitor implant makes NI medical history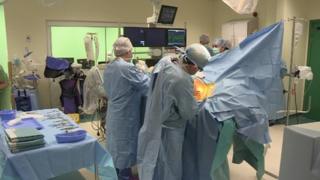 "You won't faint will you?" "No."
"Sure?" "Errrr.... Yeh."
A couple of last minute (rather tongue-in-cheek I suspect) checks from the medical staff, the theatre doors open and I'm ushered in to a prime position from which to record a little piece of Northern Ireland medical history.
On the operating table in front of me is Terence Heron, a 47-year-old family man from Portadown, County Armagh.
A few minutes earlier, I'd been chatting with Terence about the events that had brought him to this point.
Tricky
Some time ago, without warning, he suffered a blackout. It was to be the first of many.
"It just happened so suddenly," he said. "One minute you're standing up, the next you're on the ground. I didn't know what was causing it."
Indeed, establishing a cause for Terence's blackouts has proved a tricky task for everyone, with highly qualified neurologists and cardiologists unable to say for certain just where his problem lies.
That is until now.
What any expert needs is data, lots of it. And it's this that the heart monitor being implanted into Terence, as I look on, is going to provide in spadefuls.
In fact, for anything up to the next six years, it won't stop providing information, about every aspect of Terence's heart, 24 hours a day, seven days a week.
Consultant cardiologist Dr David McEneaney is the surgeon in charge.
He explained: "The device is implanted to allow us to continually monitor the patient's heart rate. It transmits the signal via the cellular telephone network to a computer where it can be interpreted.
High-tech
"Any serious slowing of the rhythm or rapid heartbeats can be detected."
It requires no further action from the patient. Instead, the little machine just silently, relentlessly monitors and informs, all the time helping the consultant to build a detailed picture of what's going on and how best to tackle the problem.
It is, in effect, almost like having a doctor with the patient constantly.
Terence is the first person in Northern Ireland to have one of the monitors implanted. It's a high-tech piece of kit, but his hopes for it are simple.
"I just want to get to the bottom of what's causing my blackouts," he said. "The sooner we get that done, the sooner we can move forward with it."
This is just the latest in a series of ground-breaking procedures to be performed at Craigavon and is further proof that district general hospitals in Northern Ireland often punch above their weight when it comes to research and development and embracing new technologies.
"We're proud that Craigavon hospital can deliver top-class cardiology investigation and treatment," said Dr McEneaney.
Terence, meanwhile, is recovering at home and looking forward, hopefully, to some explanation of just what has been causing his problems.