When Northern Ireland is excluded from the rest of the UK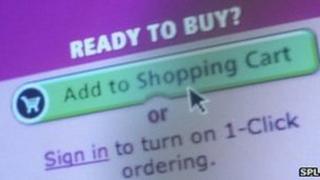 There is nothing as frustrating as finding that perfect item online at an affordable price, only to be met with the message: "Mainland UK only".
Or even: "Will not ship to Northern Ireland".
There are also those occasions when there is no problem getting the item delivered but you will find you have to pay more to cover postage compared to elsewhere in the UK.
Certain websites continue to include Northern Ireland along with the Irish Republic, the Channel Islands, the Isle of Man, the Scottish Highlands and the Northern Isles, among the locations that will require an additional delivery charge.
A spokeswoman for Royal Mail clarifies that there should be no extra cost for Northern Ireland residents.
"Royal Mail is honoured to provide a six-day week service at a uniform price across the UK," she said.
Despite this assurance, you only have to look at online forums to see they are inundated with comments from residents in Great Britain unsure whether posting across the water will require more money.
One example reads: "I live in England and need to post a small packet to Belfast, Northern Ireland. Can anyone tell me if I will have to pay extra or whether regular 1st/2nd class Royal Mail is adequate?"
This uncertainty means that Northern Ireland buyers still may find set postage and packaging rates or claims of "free postage for the UK" do not apply to them.
Against the law
The Citizens Advice Bureau said additional costs incurred by customers depended on the products on sale, the weight of the items, and how and where they were delivered.
It said people living in Northern Ireland experienced an average additional cost of £9.29 - an average mark up of 127%.
The Trading Standards Service said they did receive complaints about a number of traders who charged extra for delivery to Northern Ireland although they were unable to give figures as complaints were not categorised in this way.
A spokesman said these added costs could actually be against the law.
"If consumers are clearly made aware of the extra cost then there is unlikely to be an infringement of consumer protection legislation," he said.
"If they are not made aware of the extra charge for delivery to Northern Ireland that does not apply to consumers in Great Britain, then there may be a breach of consumer protection legislation."
Buying products online may not be the only time those living in Northern Ireland may feel excluded.
A number of television adverts appear in all regions of the UK. Those living in Northern Ireland may see that lovely sofa that would look ideal in their living rooms, or that garden furniture they could imagine themselves enjoying in summer.
There are, however, times when any dreams of buying such items are snatched away when text appears at the bottom of the screen saying they are unavailable in Northern Ireland.
The Advertising Standards Authority (ASA) said such adverts still appear in all parts of the UK but must clearly state if products are not available.
"All ads should make clear any geographical exclusions, and should not make any claim which could mislead consumers into believing a product is available in a country or area when it is not," a spokeswoman said.
On Friday, Social Development Minister Nelson McCausland said an overhaul of gambling laws in Northern Ireland would allow people to participate in promotional prize draws.
Many may not have realised that they had been the only part of the UK excluded from this prior to the announcement.
Plain packaging
Jeremy Stern, the managing director of PromoVeritas, a company that oversees promotional draws and is involved in drafting their terms and conditions and selecting winners, said this was because Northern Ireland was often sent plain packaging.
"For every 10 promotions you see in Northern Ireland in your supermarkets, there are probably 15 on the mainland," he said.
"Not many brands want to do the exemption as they don't want to state it explicitly, so they will send plain packs so those in Northern Ireland don't even know about the promotion."
He said the Westminster government changed the law in England, Scotland and Wales about eight years ago.
"That basically legalised a game of chance - a prize draw that was linked to a product purchase.
"The laws on Northern Ireland didn't change and they regarded that as a form of gambling."
Regarding the matter of promotions, Northern Ireland is likely to see more become available in the next few years.
Although it appears additional postage charges or the availability of goods may still prove a headache for some.